G20 set to expand – media
The African Union will reportedly be granted membership on par with the European Union during the upcoming leaders' summit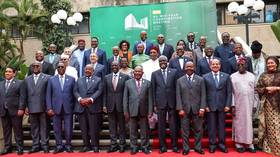 Leaders of the G20 group of economies have agreed to grant the African Union permanent membership of the organization, according to multiple media reports ahead of this week's summit in New Delhi.
The bloc of 55 African countries, which is currently classified as an "invited international organization" by the G20, would have the same status as the European Union within the group.
Indian Prime Minister Narendra Modi, whose nation currently holds the rotating G20 presidency, reportedly urged other leaders to accept the African Union into the group in a letter in June.
"This will be a right step towards a just, fair, more inclusive and representative global architecture and governance," the media quoted the document as saying. "[The] prime minister is a strong believer in having a greater voice of the Global South countries on international platforms, particularly of African countries."
South Africa is currently the sole permanent G20 member representing the continent. Egypt and Mauritius – located in North Africa and off its eastern coast, respectively – are "invitees."
The African Union's upcoming accession was confirmed by The Times of India newspaper, Bloomberg news agency, and Russia's Vedomosti daily. The latter cited Svetlana Lukash, a Russian G20 sherpa, as its source. She noted that Moscow was among the first to support the candidacy after it was formally proposed last year by President of Senegal Macky Sall, who was also the chair of the African Union at the time.
The Senegalese dignitary argued earlier this year that the G20 would undo a great "injustice" by accepting the union into its ranks. African nations collectively hold eighth place in the world in terms of GDP, he told an economic event in France.
Bloomberg said the US and its European allies intend to use the G20 leaders' summit in India, which is scheduled for this weekend, to woo nations that have good relations with Moscow and Beijing. Russian President Vladimir Putin and China's Xi Jinping will not be attending in person, opening a window of opportunity.
The Europeans, in particular, see their support for the African Union's bid as giving them clout among the nations of the continent, the outlet explained.
You can share this story on social media: