Japan launches 'Moon sniper' lander
The mission aims to touch down on the lunar surface in early 2024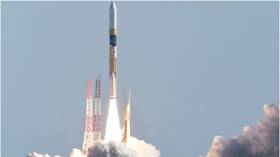 The Japan Aerospace Exploration Agency (JAXA) has successfully launched a lunar exploration craft aboard a domestically produced rocket, and aims to make a precision landing on the Moon by next February.
An H-IIA rocket took off from Japan's Tanegashima Space Center on Thursday, releasing the Smart Lander for Investigating Moon (SLIM) for its several-month voyage to the lunar surface, according to JAXA.
Though the $100 million mission got off to a rocky start, with three postponements last month due to poor weather, JAXA noted that the rocket "flew as planned" during Thursday's launch.
The space agency says it plans to make a "pinpoint landing" with the SLIM, aiming to be within 100 meters of its target site – earning it the nickname "Moon sniper." JAXA noted the mission would provide valuable data and experience for future space exploration, including landings on "resource-scarce planets."
"By creating the SLIM lander, humans will make a qualitative shift towards being able to land where we want and not just where it is easy to land, as had been the case before," JAXA said in a mission description.
Should all go according to plan, the robotic SLIM lander will follow a long, fuel-efficient path before touching down inside the Shioli impact crater, a nearly 1,000-foot wide basin located on the near side of the Moon. The craft carries a number of sensors and other gear, including several small probes that will help to monitor the condition of the landing site.
In addition to the lander, the same H-IIA rocket also carried the X-Ray Imaging and Spectroscopy Mission, or XRISM, a space telescope jointly developed by JAXA, NASA and the European Space Agency. Researchers hope the instrument will lead to breakthroughs in the field of X-ray astronomy, potentially shedding new light on the structure of the early universe, the formation of galaxies and the nature of dark matter, among other things.
The successful launch follows two other failed lunar landing attempts by Japan over the last year, with JAXA losing contact with one craft last November, while another crashed down on the Moon in April.
The feat also comes after India's maiden voyage to the lunar surface in late August – making it the fourth country to ever perform a landing – as well as an unsuccessful attempt by Moscow's Luna-25 mission. Russia's space agency, Roscosmos, said the landing failed due to a technical glitch with the engine of the craft, but went on to voice hopes for future Moon missions.
You can share this story on social media: