UK's second-largest city 'declares bankruptcy'
All new spending, except mandatory services such as the protection of vulnerable people, has been ceased in Birmingham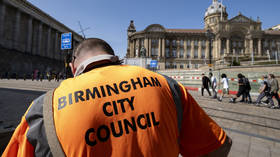 Birmingham, the largest metropolitan area in the UK outside of London, has effectively declared itself bankrupt after its city council shut down all non-essential spending following an equal pay settlement bill that could be as high as $956 million.
In a statement on Tuesday declaring itself in financial distress, Birmingham City Council said it will "tighten the spend controls already in place" and appoint an external administrator to oversee short-term fiscal planning.
"In June, the council announced it had a potential liability relating to equal pay claims in the region of £650 million to £760 million ($816 million to $956 million), with an ongoing liability that is accruing at a rate of £5 million to £14 million ($6.3 million to $17.5 million) per month," the statement said.
It added that the council "does not have the resources" to pay the outstanding sum but is "committed to dealing with the financial situation." The body also said that all new spending is to be ceased, except support to vulnerable people and various statutory services.
The settlement bill stems from a 2012 Supreme Court ruling in favor of predominantly female Birmingham City Council employees who complained that bonus scheme payments had been mainly issued to staff in roles primarily occupied by men.
On Tuesday, deputy council leader Sharon Thompson said that the Labour-run organization is facing "longstanding issues, including the council's historic equal pay liability concerns." She added that the council "had £1 billion ($1.25 billion) of funding taken away by successive Conservative governments."
A spokesperson for UK Prime Minister Rishi Sunak responded that "clearly it's for locally elected councils to manage their own budgets." Sunak's office added that Downing Street had "expressed concern about their governance arrangements and has requested assurances from the leader of the council about the best use of taxpayers' money."
The budget cuts could affect services that the council is not bound by law to maintain, including libraries and cultural projects and the maintenance of roads and parks. The dire financial situation could also impact the 2026 European Athletics Championships, which are due to take place at Birmingham's Alexander Stadium.
You can share this story on social media: