UK minister apologizes for expletive-laden rant
Secretary of State for Education Gillian Keegan was caught on camera swearing after an interview on unsafe school buildings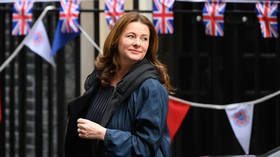 UK Secretary of State for Education Gillian Keegan has apologized after being caught on camera unleashing a foul-mouthed tirade in which she demanded more recognition for her work. The minister was heard making the comments following a TV interview on the poor state of school infrastructure.
Speaking to the media hours after her controversial remarks on Monday, Keegan described them as "off-the-cuff" but added that she "would like to apologize for my choice of language… that was unnecessary."
The politician told Sky News that she had become frustrated because interviewer Daniel Hewitt "was making out it was all my fault."
In a post on X (formerly Twitter), the minister wrote that she was fully aware of concerns over the condition that some British schools are in, and assured parents that she has "been working non-stop to resolve this issue as quickly as possible."
Keegan lost her cool after ITV News reporter Hewitt directed a series of challenging questions at her.
The official inquired exasperatedly: "Does anyone ever say: 'You know what, you've done a f**king good job, because everyone else has sat on their a** and done nothing?' No signs of that, no?"
In her follow-up interview, Keegan insisted that her "sat on their a**" comment had referred to "nobody in particular."
British Prime Minister Rishi Sunak's spokesperson admitted that Keegan's language was "not acceptable," but said that the leader was satisfied with her apology.
Keegan assumed her role as education secretary last October, and is the sixth person to hold the position since the 2019 election.
The UK authorities ordered some 104 schools across the country to shut down at the end of August, just days before the start of the new term, after it was discovered that the buildings featured Reinforced Autoclaved Aerated Concrete (RAAC). The lightweight form of concrete was widely used in the 1960s-80s, but has since been deemed weak and unsafe.
Some 1,500 more schools could be closed as the government awaits their responses to special surveys it has distributed.
The opposition Labour Party has pointed the finger at the Conservatives over what it describes as underinvestment in public services.
When asked if he felt responsible for the current crisis, Sunak, who in his previous capacity as finance minister had halved annual funding to repair schools, insisted that any suggestion that he was to blame was "completely and utterly wrong."
You can share this story on social media: