US, Philippines conduct naval drills in South China Sea
The island nation has a territorial dispute with China in the area, and tensions between Manila and Beijing have been on the rise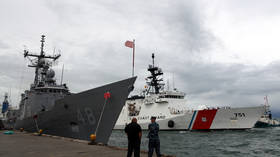 The US and Philippine naval services have conducted joint drills in the South China Sea near an area where both Manila and Beijing lay claim to. Earlier, China had warned its neighbors against cozying up to Washington and destabilizing the region.
In a statement on Monday, the Armed Forces of the Philippines' Western Command said that the country's guided-missile frigate BRP Jose Rizal and the US Navy guided missile-destroyer USS Ralph Johnson had carried out maneuvers in Manila's exclusive economic zone west of Palawan island.
Military officials noted that it was the first time the countries held such joint Philippines-US exercises in that area.
Earlier this year, Manila agreed to allow US forces to use four additional bases in the country, prompting a warning from China that the Philippines was binding itself to a "chariot of geopolitical strife."
In a video address at a think tank conference hosted by the Foreign Policy Community of Indonesia in Jakarta on Sunday, Chinese Foreign Minister Wang Yi also admonished regional powers not to let a "tragedy" akin to the one playing out in Ukraine repeat itself in Asia.
The diplomat urged neighboring countries to "promote regional security through dialogue and cooperation" and denounced a "backstage manipulator" – apparently referring to the US – fanning the flames of controversy over South China Sea territorial disputes.
Late last month, Vice Admiral Karl Thomas, commander of the US Seventh Fleet, which is part of the United States Pacific Fleet, assured the Philippines that Washington would back it in countering China's "aggressive behavior" in the South China Sea.
Thomas made his comments three weeks after an incident in which the Chinese Coast Guard deployed water cannons against Philippine vessels trying to resupply a warship that Manila had intentionally grounded on a contested South China Sea shoal in 1999.
Tensions between the Philippines and China have escalated since Ferdinand Marcos Jr. took office as president in Manila last year. Marcos has forged closer defense ties with the US and asserted his country's territorial claims in the South China Sea.
The US has also been courting other countries in the region that have territorial disputes with China.
You can share this story on social media: