Germany prosecutes 98-year-old concentration camp guard
The elderly suspect was a teenager when he oversaw prisoners at the Nazi regime's Sachsenhausen camp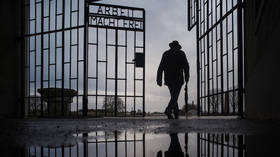 German authorities have charged a 98-year-old man with complicity in the murder of 3,300 people at the Sachsenhausen concentration camp during World War II. The case comes after a 97-year-old former secretary was found guilty of aiding the mass murder of 10,505 people at another Nazi prison.
The man, whose name has not been released, "supported the cruel and malicious killing of thousands of prisoners as a member of the SS guard detail" between 1943 and 1945, prosecutors in the German state of Hesse said in a statement this week.
The man was ruled fit to stand trial last year, and the court in Hesse will now decide on whether to let the case go ahead. If the nonagenarian is brought to trial, he will face a juvenile court, as he was under 18 at the time of his alleged crimes.
Under German law, anyone who worked at a Nazi concentration camp can be prosecuted as an accessory to the murders committed there, regardless of whether or not an individual directly took part. This precedent was established in 2011 with the conviction of John Demjanjuk, a Ukrainian guard at the Sobibor extermination camp who was sentenced to five years imprisonment for complicity in the murder of 28,060 Jews. Demjanjuk died aged 91 while appealing the verdict.
Last December, 97-year-old Irmgard Furchner was given a two-year suspended sentence for her complicity in the killing of 10,505 prisoners at the Stutthof camp in occupied Poland. Furchner, who was a teenage typist at the camp, has appealed the sentence.
Located just north of Berlin, Sachsenhausen held more than 200,000 Jews, gypsies, Soviet soldiers, and other political prisoners between 1936 and 1945. Subjected to forced labor, starvation, medical experiments, and execution by SS guards, between 40,000 and 50,000 inmates are estimated to have died at the camp.
Although nearly a century old, the Sachsenhausen guard is not the oldest person prosecuted for participation in the Holocaust. A 101-year-old former SS guard became the oldest Nazi criminal ever to be found guilty when he was sentenced to five years in prison last June for aiding more than 3,500 murders at the same concentration camp.
You can share this story on social media: