Poland shuts down largest Ukrainian refugee center – media
People were not even given "a chance to pack," a charity worker told the Financial Times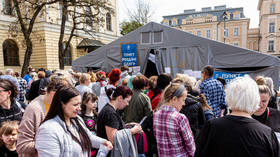 The largest refugee center for Ukrainians in Poland was abruptly closed this week, the Financial Times reported on Friday, citing a decision by the regional authorities. The move prompted the sudden relocation of hundreds of people, the paper said.
The facility was located at a former exhibition venue in the village of Nadarzyn, in the Mazovia region, just southwest of the Polish capital, Warsaw. At the peak of the Ukrainian refugee flow into Poland, it housed around 9,000 people, according to the FT. In spring 2022, the number of occupants dropped to around 300 refugees, as people were relocated to other facilities. Nevertheless, the facility remained the biggest in Poland in terms of accommodation space.
The regional authorities claimed that the center was always meant to be temporary. The facility was closed because "the number of refugees from Ukraine arriving in Mazovia is negligible," Dagmara Zalewska, a spokesperson, explained.
Local charities told the Financial Times that the closure caught both them and the residents of the center by surprise. "Some people didn't even have a chance to pack all their stuff. They gave them some food in bags and that was it," Alina Oniszczuk, an aid worker at another center for refugees in Warsaw, told the FT.
Zalewska said the move is part of the "reorganization of the entire refugee assistance system" on a national level. She added that many Ukrainians have since found work and residence in Poland or other EU nations, or simply decided to return to Ukraine.
Poland has been one of the major destinations for Ukrainians fleeing the conflict between Moscow and Kiev. According to UN data, more than 1.5 million registered Ukrainian refugees remained in the country as of spring 2023.
The situation sparked concerns among Polish authorities, who have tightened the rules for Ukrainian refugees. In March, they were allowed to live in temporary accommodation for free for only 120 days from the moment they arrive in the country. After that, they were expected to cover 50% of their living costs, but no more than $9 per day. In May, these figures were raised to 75% and $13 respectively.
In March, Polish media outlets reported that officials planned to recover assistance funds that were improperly allocated to Ukrainian refugees which amounted to 2 million Polish zloty ($450,000), Rzeczpospolita reported at the time, adding that the real figure could have been even higher.
You can share this story on social media: