Poland wants money back from Ukrainian refugees – media
Citizens from the war-torn country unduly received some $450,000, Rzeczpospolita has reported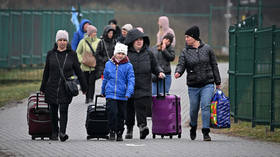 Polish officials are trying to recover social assistance funds they unduly allocated to Ukrainian refugees after they had left Poland, Rzeczpospolita reported on Wednesday.
According to the outlet, Poland's Social Insurance Institution (ZUS) paid some two million Polish zloty ($450,000) to Ukrainians through two programs that handed out monthly payments of 300 ($67) and 500 zloty ($112) a month per child despite the refugees having no right to this assistance.
However, the real amount of the aid distributed without valid reason may be even higher, the report says. So far, out of this sum, ZUS is believed to have retrieved only 35,300 Polish zloty ($8,000).
ZUS spokesman Pawel Zebrowski told the Polish daily that the organization "successively issues further decisions on unduly collected benefits and obliges its beneficiaries to return them," adding that they have two years to do that.
As things currently stand, if a Ukrainian refugee leaves the territory of Poland, the assistance he receives from local authorities or ZUS gets suspended. Should the refugee stay outside of Poland for more than 30 days, he completely loses the right to all benefits associated with this status.
Warsaw has tightened its rules for Ukrainian refugees in recent weeks. From March 2023 onwards, they will be allowed to live in temporary accommodation for free for only 120 days from the moment they arrive in the country. After that, they will have to cover 50% of their living costs, but no more than $9 per day. In May, these figures are set to increase to 75% and $13 respectively.
As per the new rules, ZUS has temporarily stopped paying benefits to some 3,200 Ukrainian citizens that have left the country. However, Zebrowski promised that the assistance would be restored if the refugee returned within a month.
Since the start of the conflict between Moscow and Kiev in February 2022, millions of Ukrainian refugees have fled the country to the EU, with neighboring Poland becoming one of their main destinations. According to UN data, more than 1.5 million registered Ukrainian refugees still remain on the nation's territory.
You can share this story on social media: