Poland cuts aid for Ukrainians
Refugees staying in state shelters for more than four months will now have to pay 50% of their accommodation costs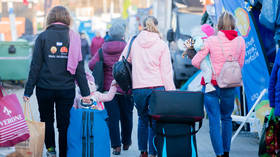 Warsaw has changed its policy on Ukrainians fleeing the conflict between Moscow and Kiev who are staying in Poland. Under a regulation that came into force on Wednesday, they will now have to cover some of the costs of their own accommodation if they stay in state-run shelters for more than four months.
Ukrainians living in group accommodation facilities must pay for half of the expenditures from March, according to amendments made to the Ukrainian Citizens Assistance Act signed by President Andrzej Duda in late January. That amounts to up to 40 zlotys ($9) per person per day, the document published by the Polish parliament says.
Those who stay in the state-run facilities for more than 180 days will have to cover 75% of the costs starting from May 1, meaning the sum they pay will be around 60 zlotys ($13.6) per person per day, the legislation says.
Minors under 18, people with disabilities, people of retirement age, pregnant women, and those raising a child up to the age of one or taking care of three or more minors, will be exempted from the new rules.
The move was taken to "balance expenses" and encourage Ukrainian refugees to become more "independent," Deputy Interior Minister Pawel Szefernaker told Polish media. "It is not the role of the state to rent apartments," he told Poland's RMF24 radio, adding that "we are coordinating activities aimed at ensuring that those [Ukrainians] who have not become independent in Poland become independent as soon as possible."
Some refugee aid programs in Poland are to be taken over by the International Committee of the Red Cross (ICRC) and the UN Refugee Agency (UNHCR), Szefernaker said. According to the deputy minister, Warsaw spent 6 billion zlotys ($1.36 billion) on helping Ukrainian refugees in the first six months of 2022.
Brussels only provided Poland with an additional 900 million zlotys ($203.55 million) of aid in 2022, he said, calling it a "drop in the ocean" of what is needed.
"We keep pointing out that a fund is needed [to support] countries like Poland, Germany, the Czech Republic, Austria and Romania, which have accepted the largest number of [Ukrainian] refugees. These are the only funds we have received from the European Union," Szefernaker told RMF24.
According to Poland's PAP news agency, half a million people have stayed in Poland's state-run accommodation centers since the start of the military operation in Ukraine. Some 80,000 are still living there now, the agency added.
You can share this story on social media: