TikTok influencer gets life sentence for murder
Mahek Bukhari and her mother killed two men by ramming their car off the road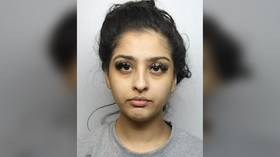 A former TikTok fashion influencer and her mother have been sentenced to life in prison for the murder of two men over an alleged extortion attempt. The British women and several male accomplices pursued the victims in a high-speed car chase that ended in a fiery crash.
Mahek Bukhari, 24, was sentenced to life with a minimum of 31 years and eight months in prison on Friday, while her mother, Ansreen Bukhari, was sentenced to a minimum term of 26 years and nine months. Two men who took part in the double murder were sentenced to similar terms behind bars, while three other men were given 14-year terms for manslaughter.
Whole life sentences are rare in the UK, with most murderers serving between 15 and 20 years behind bars.
Before killing Saqib Hussain and Mohammed Hashim Ijazuddin, both 21, last February, Mahek Bukhari was a minor celebrity on TikTok, and had amassed 120,000 followers by posting videos about fashion, sometimes featuring her mother.
"TikTok and Instagram are at the heart of this case," judge Timothy Spencer of Leicester crown court said during Friday's hearing. "That is the reason you, Mahek, dropped out of university. Had you not done so, you would now be a young graduate with your whole life ahead of you. Now, you constrain yourself to prison for all of your best years."
Ansreen Bukhari's "head was turned" by the "perceived glamour" of her daughter's world, Spencer told the court, explaining that her desire to emulate her daughter's lifestyle led the 46-year-old to pursue an extramarital affair with Hussain.
The court heard that Hussain tried to end the relationship, and threatened to send sexually explicit photos and videos of Ansreen to her husband if she refused to repay him £3,000 ($3,778) that the 21-year-old said he spent on dates with her.
Mahek agreed to meet Hussain in a parking lot in the city of Leicester last February, saying that she would hand over the money he was demanding from her mother. Ijazuddin drove Hussain to the meeting, only to discover that the Bukharis had prepared an ambush. The mother, the daughter, and their male accomplices pursued the two victims in two separate cars. During the chase, the court heard a call made by Ijazuddin to the police in which he said: "They're trying to ram us off the road. Please, I'm begging you, I'm going to die."
The phone call ended with a scream and the sound of a crash. Hussein and Ijazuddin's vehicle, a Skoda, collided with a tree and burst into flames. Reports from the scene described the car as having "virtually split in two."
You can share this story on social media: