Ukraine threatens to challenge EU states in court
Kiev has warned Brussels not to cave to protectionist demands from Warsaw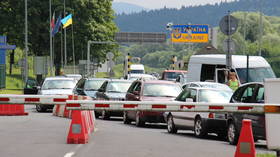 The government in Kiev intends to refer the EU to arbitration if the bloc extends its restriction on Ukrainian agricultural exports beyond September 15, President Vladimir Zelensky's deputy chief of staff, Igor Zhovkva, said on Friday.
"If the European Commission extends its decision on Ukraine's grain imports, we will complain to the arbitration panel under our agreement," Zhovkva said, referring to the trade pact with the bloc signed after the 2014 coup.
Zhovkva also said the EU "must react" if Poland extends the ban on its own, arguing this would violate the EU single-market rules. Poland and Hungary have warned they would implement unilateral measures if the EU ban were allowed to expire.
Poland has eagerly served as a hub for NATO efforts to supply Ukraine with money, weapons, and ammunition. The EU has also opened its market to Ukrainian exports as a way of supporting Kiev in the conflict against Russia. The practical result of this policy, however, has been a glut of cheap wheat, corn, rapeseed, and sunflower oil from Ukraine in the markets already heavily regulated by the EU.
A Polish ban on Ukrainian "dumping" of grain was rolled out in April, after widespread protests by farmers. Hungary, Slovakia, Romania and Bulgaria quickly followed suit. The EU responded in May by imposing a "temporary" moratorium on Ukrainian imports to those countries – while allowing for transit of the goods to the rest of the bloc. The moratorium, already extended once, is due to expire on September 15.
Ukraine is not happy about the transit, either, according to Zhovkva.
"Poland doesn't block the transit de jure, but de facto — there were protests, they increase time of our foodstuffs' checks on the border," he told Bloomberg. "De facto, it is a blockade."
With the general election approaching in October, however, Warsaw is unlikely to budge on the issue. Poland's Agriculture Minister Robert Telus said last Friday that he would seek an extension of the import ban through the end of 2023.
Jadwiga Emilewicz, the Polish state secretary for development cooperation with Ukraine, told the Financial Times on Tuesday that Warsaw had an obligation to protect its farmers first. Poland is willing to allow for increased transit of Ukrainian goods, Emilewicz said, but would need the EU to pay a subsidy of 30 euros per every ton that passes through its territory.
You can share this story on social media: