Rush to accept Ukraine into EU could spell 'disaster' – Austrian FM
Fast-tracking membership for Kiev would imply some candidates are "more equal than others," Alexander Schallenberg has warned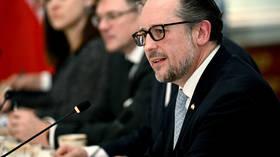 The EU cannot afford to prioritize Ukraine's accession to the bloc while neglecting other long-standing candidacies, Austrian Foreign Minister Alexander Schallenberg warned on Friday.
Speaking on Politico's EU Confidential podcast, Schallenberg said that while he believes Ukraine and neighboring Moldova belong in the "European family," the EU must carefully consider its enlargement policy.
"We can't have Ukraine on the fast-track and the other countries on the service line. That will be a geostrategic disaster," the minister claimed. Referencing George Orwell's dystopian novel 'Animal Farm', Schallenberg stressed that the EU should avoid a system in which some countries "are more equal than others."
The Austrian minister noted that the EU had promised membership to Western Balkan nations around 20 years ago, but had failed to deliver on that pledge. He urged Brussels to "put its money where its mouth is" and drop "binary thinking" about membership, suggesting candidate nations should be allowed some participation in EU deliberations and activities.
"We cannot wait. Because if we wait, we might lose these regions. We might lose Ukraine again… and the Western Balkans," Schallenberg warned. He added that if the EU could not prove its credibility in its own neighborhood, it would not be able to play any significant role globally.
Ukraine declared its aspirations to join the EU as a national strategic goal several years ago, but only formally applied for membership in late February 2022, days after Russia launched its military campaign in the country. Moldova followed Ukraine a few days later, and both Kiev and Chisinau were granted EU candidate status in June of the same year.
However, EU officials have refused to set specific deadlines for Ukraine's accession, saying that it must address issues such as rampant corruption as well as introduce comprehensive legal reforms.
Moldova's membership bid has been complicated by the unresolved issue of its breakaway republic of Transnistria.
You can share this story on social media: