First traces of radioactive isotope found near Fukushima wastewater release
The concentration of tritium was almost 6,000 times lower than the maximum permitted level, according to Japanese experts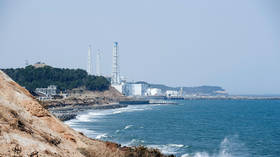 Japanese energy company Tokyo Electric Power (TEPCO) has recorded traces of tritium in the ocean near the Fukushima wastewater discharge site for the first time, according to a statement released on Friday.
TEPCO reported that the concentration of tritium – a radioactive isotope of hydrogen – was detected in samples taken on August 31 at 11 points within 3km of the Fukushima Daiichi Nuclear Power Station. At 200 meters – the closest point from which treated wastewater is being released into the ocean – the concentration was found to be 10 becquerel per liter (bq/l), which is a unit used to measure radioactivity.
Japanese experts said the reading was only slightly above the lower limit of detection of 8.6 bq/l, and is about 6,000 times less than the permissible level of 60,000 bq/l established by Japan's International Commission on Radiological Protection. The detected levels are also 1,050 times lower than the acceptable norm for drinking water set by the World Health Organization.
In samples taken from other measuring points within 10km from the water discharge site, tritium concentration levels were found to be below the lower limit of detection of 7.6 to 7.7 bq/l.
TEPCO noted in its report that the readings may differ in the future due to changing currents. Tokyo has insisted that throughout the Fukushima water discharge, the levels of tritium in the ocean water will not exceed 1,500 bq/l.
Elsewhere, Japan's Fisheries Agency as well as the Fukushima Prefecture have reported that their testing did not reveal a detectable difference in tritium levels in fish or the water since the release began.
The Japanese government has repeatedly defended the release of treated radioactive wastewater from the destroyed Fukushima plant, and is adamant it will not affect people or the environment.
The procedure began last week as part of a UN-approved plan. However, it has triggered condemnation from a number of Japan's neighbors, including China and South Korea, which have decried the move as "irresponsible" and have banned Japanese seafood products for fear of contamination.
Russia's veterinary and phytosanitary watchdog, Rosselkhoznadzor, said on Thursday that it had not found any excessive levels of radiation in fish caught in Far Eastern seas, concluding that the Fukushima wastewater release had not compromised the safety of seafood products in the region.
You can share this story on social media: