US hands 'Proud Boys' organizer 17-year sentence
Joe Biggs has received the jail term for his role in the January 6, 2021 riot in Washington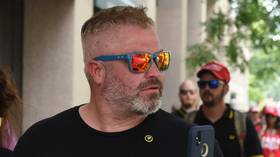 Conservative pundit and Proud Boys lieutenant Joe Biggs has been sentenced to 17 years in prison for taking part in the January 6, 2021 riot at the US Capitol. The judge labeled Biggs' actions "terrorism" in order to send a message to other protesters.
Biggs' sentence was handed down in Washington, DC on Thursday, almost four months after he was found guilty of seditious conspiracy – an obscure Civil War-era charge – and conspiracy to obstruct an official proceeding. Biggs was convicted alongside Proud Boys leader Enrique Tarrio and two other senior members of the right-wing fraternity.
The 17-year prison term is the second-longest sentence given to a participant in the 2021 riot, with Stewart Rhodes of the 'Oath Keepers' militia receiving an 18-year term for the same offenses in May.
Prosecutors originally sought that a terrorism enhancement be added to Biggs' sentence, which would see the US Army veteran spending almost 34 years behind bars. Judge Tim Kelly sided with the government in labeling Biggs a terrorist, but did not apply the enhanced sentence. Instead, he said that the terrorism label is intended to send a message that the Capitol riot "should not ever happen again and cannot happen again."
The actual act of "terrorism" singled out by prosecutors was Biggs' pushing over of a metal bicycle rack, which they argued amounted to destruction of a "government facility" intended to "influence or impact the conduct of government by intimidation or coercion."
"I know that I messed up that day," Biggs told Kelly, "but I'm not a terrorist." The 39-year-old, who served in the US military before hosting a show on Alex Jones' Infowars network, insisted that he didn't have "hate in my heart" on the day of the riot.
Aside from damaging a fence, Biggs was convicted of verbally abusing police officers, and organizing groups of Proud Boys to push through police lines and into the Capitol building. Prosecutors described these acts as an attempt to lead a "revolt against the government."
Tarrio is set to be sentenced next week, while three other senior Proud Boys members will be sentenced on Thursday afternoon and Friday morning.
A total of 1,129 people have been criminally charged over their participation in the January 6 riot, with more than 600 receiving convictions. Among the accused is former president Donald Trump, who was indicted a month ago by the Justice Department's special counsel, Jack Smith, and charged with conspiracy to obstruct an official proceeding, conspiracy to defraud the US, and conspiracy against the right to vote.
Trump insists that the indictment, and other criminal cases against him, are a "Stalinist" attempt by President Joe Biden's to jail his leading political rival ahead of next year's election. Trump has condemned the prosecution of the Capitol rioters as politically motivated, and promised that he would pardon "a large portion" of those convicted if elected.
You can share this story on social media: