Proud Boys blame Capitol riot on Trump
On trial for sedition, Enrique Tarrio and his men have argued that the former president's words instigated the disorder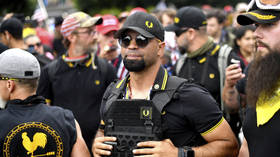 Lawyers for Proud Boys leader Enrique Tarrio and his associates argued on Tuesday that the organization is being prosecuted as a "scapegoat" for former President Donald Trump, who they claimed was solely responsible for instigating the January 6 2021 riot on Capitol Hill.
"It was Donald Trump's words. It was his motivation. It was his anger that caused what occurred on January 6th in your amazing and beautiful city," Tarrio's lawyer, Nayib Hassan, told jurors during closing arguments at a federal court in Washington, DC.
"It was not Enrique Tarrio. They want to use Enrique Tarrio as a scapegoat for Donald J. Trump and those in power," Hassan continued.
Tarrio and fellow Proud Boys members Ethan Nordean, Joseph Biggs, Zachary Rehl, and Dominic Pezzola are on trial for seditious conspiracy, a charge that carries a maximum penalty of 20 years in prison. While the US Department of Justice has charged more than 1,000 people for participating in the riot, only a handful have been charged with sedition, among them four members of the Oath Keepers militia, who were convicted of the offense in January.
Tarrio was not present at the riot, having been arrested two days earlier for burning a stolen Black Lives Matter flag. Prosecutors argued, however, that he helped orchestrate the riot from a hotel in Baltimore, citing text messages between Tarrio and some of his top lieutenants.
Some of Trump's supporters argue that the riot was instigated by law-enforcement, dubbing the day's events a "fedsurrection." According to Pezzola's lawyer, US Homeland Security Investigations (HSI) had 19 informants among the protesters, while Washington's Metropolitan Police Department had 13 on site. The FBI had eight agents among the Proud Boys, the lawyer argued in a court filing earlier this month.
Tarrio himself was a documented FBI informant since 2012, and helped the agency make cases against over a dozen people before the January 6 riot.
Biggs' lawyer, Norm Pattis, also shifted blame for the riot onto Trump. "The leader of the free world sold this narrative, and many members of the Proud Boys believed it," Pattis told jurors. "People believe their president."
The riot interrupted the certification of Joe Biden's win, as crowds of Trump's supporters occupied the halls of the US Capitol. Some walked around peacefully, escorted by police, while others caused property damage and fought with officers. Four Trump supporters died that day, two died of natural causes and one of an accidental overdose, while Air Force veteran Ashli Babbitt was shot by a Capitol Police officer near the entrance to the House chamber.
Trump, who earlier that day told his supporters to "fight like hell," but also to do so "peacefully and patriotically," has denied playing any role in fomenting the riot.
You can share this story on social media: