Lawyer makes claim on US Capitol riot informants
An attorney representing one of the "insurrection" defendants has claimed that 40 government agents were embedded among protesters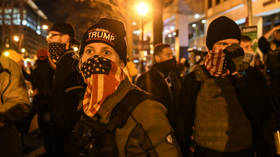 Law enforcement agencies had at least 40 undercover informants embedded among the protesters alleging election fraud at the January 2021 US Capitol breach, a lawyer for one of the riot defendants has claimed.
Government officials have admitted that eight FBI informants were operating within the Proud Boys conservative activist group during the January 6 Capitol riot, defense lawyer Roger Roots said on Wednesday in a court filing. Roots, who represents Proud Boys member Dominic Pezzola, claimed that US Homeland Security Investigations (HSI) had 19 informants among the protesters, while Washington's Metropolitan Police Department had 13 on site.
"The federal prosecutors in this case are refusing to disclose information regarding these non-FBI informants," Roots said in the US District Court filing. "The existence and likely conduct of these confidential human sources is almost certainly exculpatory for Pezzola."
More than 1,000 people have been charged with federal crimes for their alleged roles in the Capitol riot, which supporters of President Joe Biden have touted as a racially motivated "insurrection" aimed at blocking the peaceful transfer of power after former President Donald Trump's election defeat. Pezzola is standing trial in Washington, along with former Proud Boys chairman Enrique Tarrio and several other members of the activist group, for allegedly conspiring to disrupt certification of Biden's election victory.
Roots said some of the informants marched with the protesters and helped to instigate the Capitol breach. He asked the court to force the government to "reveal all informants, undercover operatives and other confidential human sources relating to the events of January 6." The lawyer added that the defense's trial strategy would have been different if it had been aware of the "scope and scale" of the undercover government operations at the Capitol.
Roots also requested the court's permission to subpoena Ray Epps, the protester seen on video urging Trump supporters to go into the Capitol. Epps has denied being a government informant. Critics of the federal crackdown on alleged rioters have questioned why Epps hasn't been arrested for his role in the incident. He is being "suspiciously protected from prosecution by the government," Roots said.
Prosecutors revealed last month that a woman whom Tarrio's lawyer planned to call as a witness had worked as an FBI informant. Judge Timothy Kelly ruled that her relationship with the agency couldn't be mentioned during the trial, and Tarrio's lawyer reportedly decided not to call her to testify.
You can share this story on social media: