Most Americans believe feds helped incite Capitol riot – poll
A Rasmussen survey has found that only 18% of US voters are convinced that the government played no role in the January 6 breach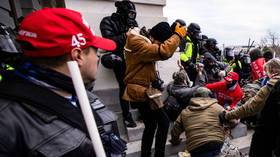 More than six in ten Americans believe it's at least "somewhat likely" that federal government agents helped provoke the January 2021 Capitol riot, a new poll has revealed. The results suggest that media outlets have largely failed to brand the incident as an insurrection incited by then-President Donald Trump.
The poll, released this week by Rasmussen Reports, shows that among the 61% of US voters who think the feds probably helped spur Trump supporters to breach the Capitol, most see that scenario as "very likely." Just 30% of Americans believe it's unlikely that undercover agents were involved in the riot, including 18% who say it's "not at all likely."
Rasmussen said its findings reflect a dramatic shift in public opinion in the two-plus years that have passed since the riot. For instance, a survey done during the week immediately after the incident found that half of Americans believed Trump should be removed from office and jailed for causing his supporters to storm Congress and disrupt certification of President Joe Biden's election victory. By the end of 2021, 58% of voters believed the congressional panel appointed to investigate the riot had become a "partisan committee weaponized against innocent Americans."
More than 1,000 people have been charged with federal crimes for their alleged involvement in the riot. Many of the defendants have been held in jail, reportedly under harsh conditions, without being given the option of posting bail. Republican lawmakers have suggested that undercover government agents were involved in the riot and have questioned why an Arizona man named Ray Epps, who was seen on video urging Trump supporters to go into the Capitol, hasn't been indicted.
The latest poll found that 70% of Republicans and 57% of both Democrats and independent voters now believe it's likely that feds helped provoke the riot. Around 80% of all voters agree that all video footage of the riot should be released to the public. Earlier this week, US House Speaker Kevin McCarthy, a California Republican, gave riot video footage that had been withheld by the congressional panel to Fox News host Tucker Carlson.
A separate Rasmussen poll this week showed that 34% of US voters believe Representative Marjorie Taylor Greene's idea of a "national divorce" between Republican- and Democrat-controlled states. Only one in three believes Biden is keeping his campaign promise to unite the country.
You can share this story on social media: