Trump trial date set
Judge Tanya Chutkan has rejected the former President's legal team's request to postpone the federal case until April 2026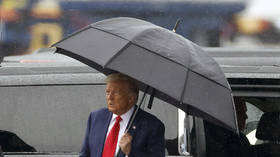 Former US president Donald Trump will be tried on federal conspiracy charges related to his alleged attempts to overturn the 2020 election on March 4 of next year, Judge Tanya Chutkan announced on Monday.
Rejecting the Trump team's efforts to postpone the trial until after the 2024 presidential election, Chutkan insisted the candidate "make the trial date work regardless of his schedule," arguing during a hearing at the Federal District Court in Washington that "there is a societal interest to a speedy trial."
Trump's lawyers had asked to push the date back to April 2026, citing the need for a massive amount of discovery and other preparation to defend their client against the charges, which stem from his alleged involvement in the January 6 Capitol riot – an incident for which he was already impeached. Critics of the former president have argued the later date request was merely a stalling tactic so that Trump might pardon himself if he wins the election.
Judge Chutkan's proposed court date comes just weeks before Fulton County District Attorney Fani Willis' desired March 24 start date for Trump's trial in Georgia on election-tampering charges. That date in turn falls one day before the scheduled start date for his trial in Manhattan district court on charges of falsifying business records related to his alleged payment of hush money to porn star Stormy Daniels.
The barrage of trial dates is scheduled squarely in the middle of primary season, with the 15-state "Super Tuesday" vote falling on March 5 next year and 17 states still to vote after his appearance in Chutkan's court. The Republican National Convention, during which the party officially chooses its nominee, isn't until July, by which time all four of the cases against Trump will have begun court proceedings.
Trump has argued for months that the unprecedented barrage of indictments leveled against him amounts to a political witch hunt designed to prevent him from running in 2024 and constitutes illegal election interference by the Biden administration. Many of his supporters appear to share that opinion, having flooded his campaign with $4.18 million in donations in the 24 hours following the release of his mugshot photo from the Fulton County jail on Thursday – the campaign's highest single-day take to date.
The former president's supporters have also argued Judge Chutkan is not impartial and should recuse herself. Chutkan has famously doled out even harsher sentences to January 6 protesters than prosecutors demanded, sending 38 of them to prison. She has made no secret of her belief that the 'Stop the Steal' protest-turned-melee was an assault on US democracy directed by Trump.
You can share this story on social media: