US prepares drone swarm 'hellscape' for China
The Pentagon hopes to field thousands of UAVs in several domains over the next two years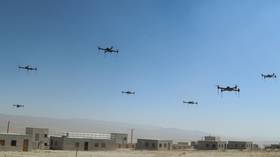 The US military has launched a program to develop "drone swarm" technology, the Pentagon's number-two official has said, suggesting the new systems are intended for a future conflict with China.
Speaking at a National Defense Industrial Association (NDIA) conference in Washington, DC on Monday, Deputy Defense Secretary Kathleen Hicks outlined the weapons program, dubbed "Replicator," which aims to deploy thousands of UAVs simultaneously on the land, sea and air.
The official said that while the US military still benefits from systems that are "large, exquisite, expensive and few," it has been slower to adopt platforms which are "small, smart, cheap and many," such as small, easily-produced drones. She argued that the Chinese military has superior "mass" over US forces – "more ships; more missiles; more people" – and stressed the need to overcome that advantage with innovative weapons systems.
"We'll counter the [People's Liberation Army's] mass with mass of our own, but ours will be harder to plan for, harder to hit, and harder to beat," Hicks said, adding that while Beijing was "relatively slow and lumbering" during the Cold War, it has since developed forces to "blunt the operational advantages we've enjoyed for decades."
To reclaim those advantages, Hicks said the Replicator program would work to field "multiple thousands" of UAVs across several domains, hoping to complete the project within two years.
Though Hicks shared few other details about the initiative, Admiral John Aquilino, who leads the US Indo-Pacific Command, said the drones would be helpful in a future conflict with the People's Republic, as they could strike a large number of targets spread over a wide area.
"Here's a metric for me: 1,000 targets for 24 hours," Aquilino said, adding that his command has worked with DARPA to create systems that will collect and integrate targeting data for an entire theater faster than before, through a program named "Assault Breaker II."
"The components in INDOPACOM have been experimenting now for the last five to 10 years with many of those unmanned capabilities. Those will be an asymmetric advantage. So operational concepts that we are working through are going to help amplify our advantages in this theater…there's a term, hellscape, that we use," the admiral continued, referring to a potential war with China.
Earlier this year, the US, UK and Australian militaries held a joint "capabilities trial" to show off new AI-powered drone systems, which were deployed as a "collaborative swarm to detect and track military targets," according to the Pentagon. While it is unclear exactly how artificial intelligence will factor into the Replicator program, the three allies have placed increasing focus on Beijing in the Indo-Pacific, vowing to develop and deploy new military capabilities in the region to counter China.
You can share this story on social media: