Regional leader tells EU applicant to join BRICS instead
The other group might accept Bosnia-Herzegovina more quickly, Milorad Dodik has said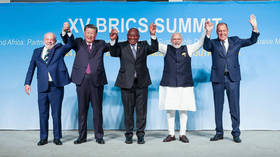 Republika Srpska, the Serb half of Bosnia-Herzegovina, will propose to the central government to seek membership of BRICS, its president, Milorad Dodik, said on Monday. His comments come after BRICS admitted six new members last week, and the EU revealed a timeline for its own possible expansion.
"The EU has an alternative," Dodik said in a post on X (formerly Twitter). "Since Brussels keeps making new and vague demands, I think Bosnia-Herzegovina should apply to BRICS. I believe it would be admitted faster."
Republika Srpska will put forth a formal proposal for applying to the group in the coming days, Dodik added.
The 64-year-old former basketball player is currently serving his third term as president of Srpska, having sat on Bosnia's three-member presidency between 2018 and 2022. While Dodik has been outspoken about his friendship and good relations with Russia, the Bosnian Muslim (Bosniak) and Croat representatives recently traveled to Ukraine to endorse the government in Kiev.
Bosnia-Herzegovina was partitioned between Srpska and the Bosniak-Croat Federation in the Dayton Accords – the US-brokered peace treaty that ended the former Yugoslav republic's civil war in 1995. While there have been no further armed clashes since, the conflict between the three communities has continued by political means.
The US and the EU have justified their frequent interventions in Bosnian political affairs by saying that changes to the constitution and the power-sharing arrangement signed in Dayton are necessary for the country's membership in the EU and NATO. The Serbs are ambivalent about the former, but adamantly opposed to the latter.
Earlier on Monday, European Council President Charles Michel told a gathering of Balkans and EU officials in Slovenia that the bloc aims to admit new members – such as Ukraine, Moldova, and the rest of former Yugoslavia – by 2030, if they do everything Brussels demands of them. Some of the aspiring members, like Albania, have voiced displeasure that Ukraine is jumping the line they've been stuck in for over a decade.
At last week's summit in Johannesburg, the organization composed of Brazil, Russia, India, China, and South Africa decided to admit Argentina, Egypt, Ethiopia, Iran, Saudi Arabia, and the United Arab Emirates as well, with more countries likely to join in the future.
You can share this story on social media: