EU summit to discuss membership of Ukraine – Michel
The bloc should aim to expand in 2030, the European Council head has claimed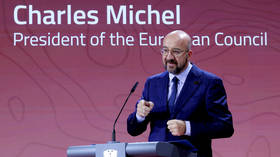 The European Union intends to begin discussions on admitting Ukraine and several other countries as early as October, European Council President Charles Michel announced on Monday.
Enlargement "is no longer a dream," Michel told the officials from Albania, Bulgaria and former Yugoslav states gathered at the Bled Strategic Forum in Slovenia.
"As we prepare the EU's next strategic agenda, we must set ourselves a clear goal. I believe we must be ready, on both sides, by 2030 to enlarge," Michel said. "This is ambitious, but necessary. It shows that we are serious."
The bloc's leaders will discuss enlargement at the next European Council meeting, said Michel, where they "will take a stand on the opening of negotiations with Ukraine and Moldova." That meeting is scheduled for October.
Another EU-Western Balkans summit, following up on last week's event in Athens, will be convened in December. Michel said he expected Bosnia-Herzegovina and Georgia "to be back on the table" as well.
For their part, the aspiring members need to adopt the "fundamental" EU values of "rights and dignity, democracy, and solidarity," and implement the rule of law "in full respect of our diversity," Michel argued.
The European Council head also offered an explanation as to why Ukraine and Moldova were granted candidate status in June last year. According to Michel, this was done because Russia "is attacking all that we believe in – freedom, democracy, prosperity, and cooperation."
Albanian PM Edi Rama welcomed the expansion announcement, but voiced concerns that Ukraine was cutting in line ahead of the Balkans countries that had been waiting for membership for decades.
"Ukraine should be seen like a possible member state, but I wish this will not be [to the] detriment of the Western Balkans," Rama said, according to AFP. Albania applied for membership in 2009, and was given candidate status in 2014.
Serbian PM Ana Brnabic also pointed out that her country was given candidate status in 2012, only to see support for joining the EU plummet due to a lack of progress in talks.
Michel also noted that "resolving bilateral conflicts from the past" was a necessary requirement for joining the EU, because "there is no room for past conflicts within the EU."
Ukraine is currently in a conflict, Moldova has not resolved the issue of Transnistria, while the bloc is pressuring Serbia to recognize its breakaway province of Kosovo as an independent state, though five of its own members have yet to do so.
You can share this story on social media: