Serb leader 'proud' of relations with Russia
Rumors of sanctions against Moscow are just propaganda, said Republika Srpska's Milorad Dodik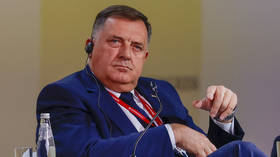 Bosnia-Herzegovina has not made the decision to join the US-EU sanctions against Russia, and any diplomats who claim otherwise are renegades, Serb Republic President Milorad Dodik said on Tuesday.
By law, the three-member Presidency is in charge of Bosnia's foreign policy, but the Foreign Ministry and Sarajevo's envoy to the UN are acting on their own and beyond their authority, Dodik told RT Balkans. Bosnia was among the countries that voted to condemn Russia last week in the UN General Assembly.
The previous government ignored the constitution and proper procedures and conducted foreign policy on behalf of only one of Bosnia's three constituent communities, Dodik said, noting that some traces of this renegade behavior continue to linger.
"We will not end relations with Russia. We wish all the best for everyone. We don't care about the position of the US ambassador. We are proud of our cooperation with Russia. We also want good cooperation with the US, but the terms they insist on make that impossible," Dodik noted.
According to Dodik, the EU and the US are pressuring Bosnia to join their sanctions against Moscow, but such a decision has not been made by the Presidency, the Council of Ministers, or the Parliament, whatever some politicians may claim.
"There will be no sanctions against Russia," he said.
The leader of the Alliance of Independent Social-Democrats was elected president of the Serb Republic (Republika Srpska, RS) last year, having previously served a term in the tripartite presidency. The RS accounts for half of Bosnia, while the Federation consisting of ten Bosniak- and Croat-majority provinces makes up the other half. The decentralized arrangement was built into the 1995 Dayton Accords, the peace treaty that ended almost four years of sectarian conflict.
Dodik has opposed attempts by international overseers to centralize Bosnia-Herzegovina, which got him accused of "undermining peace" and placed on the US sanctions list. After taking office last year, he said the West needed to understand that "communication is no longer possible from the position of demanding complete obedience and submission" and that outsiders need to respect the foreign policy priorities of RS, among which were good relations with Moscow.
Neighboring Serbia has also refused to join the EU sanctions against Russia, insisting on neutrality in the Ukraine conflict. Earlier this month, however, President Aleksandar Vucic said the Western pressure might soon compel him to submit.
You can share this story on social media: