US will be 'Uncle Sucker' no more – presidential contender
Republican Vivek Ramaswamy has vowed to scale back Washington's involvement overseas and to end the Russia-Ukraine conflict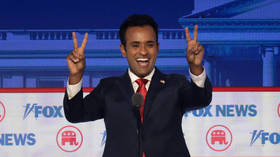 US biotech entrepreneur Vivek Ramaswamy, one of the top-polling Republicans in the 2024 presidential race, has unveiled a foreign policy agenda that calls for scaling back overseas involvement and avoiding "entangling alliances."
"I will lead our nation from the bloody follies of neoconservatism and liberal internationalism abroad towards a strategy that affirmatively defends our homeland," he said on Monday in a commentary posted in The American Conservative magazine. "We will be Uncle Sucker no more."
The 38-year-old Ramaswamy, who has a fortune pegged by Forbes at around $950 million, said his foreign-policy platform was inspired by the Washington Doctrine, put forth by the first US president. He cited former President Thomas Jefferson's summation of that doctrine: "Peace, commerce and honest friendship with all nations, entangling alliances with none." He also praised former President Richard Nixon's policy of requiring allies to bear their own security burdens.
"Rather than spending billions projecting power into global vacuums where our allies will not spend to maintain it themselves, we will put America first again, as George Washington urged, as we recalibrate and consider our true interests," Ramaswamy said.
The political newcomer was the only candidate at last week's Republican presidential debate to call for halting military aid to Ukraine, saying he would end Kiev's conflict with Russia. Ramaswamy's strategy would include freezing the current lines of control, barring Ukraine from joining NATO, ending sanctions against Moscow, and requiring Russian President Vladimir Putin to sever military ties with China's Xi Jinping.
"I will go to Moscow in 2025," the candidate said in Monday's commentary. "I will deliver peace in Ukraine under the only terms that should matter to us: terms that put American interests first. The Biden administration has foolishly tried to get Xi to dump Putin. In reality, we should get Putin to dump Xi."
Ramaswamy also called for replacing the longstanding US policy of "strategic ambiguity" regarding Taiwan – leaving China to wonder whether Washington would defend the self-governing island against attack – with "strategic clarity." He has emphasized that he would defend Taiwan "vigorously" until the US builds up its domestic semiconductor industry and no longer relies on the self-governing island for advanced chips.
Following last week's debate, where he was the focus of attacks by former Vice President Mike Pence and other establishment politicians, Ramaswamy predicted that the race for the Republican nomination will come down to himself and former President Donald Trump. A Drudge Report poll found that 33% of viewers believe he won the first Republican debate. None of the other seven candidates scored higher than 22%.
You can share this story on social media: