Trump dominating Republican rivals – poll
GOP voters of all persuasions favor the former president over Ron DeSantis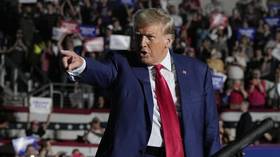 Former US President Donald Trump is leading his closest Republican contender, Florida Governor Ron DeSantis, by 54% to 17%, according to a New York Times poll published on Monday. Trump's legal battles have done little to dampen his support among every cohort of GOP voters.
Asked who they would choose as their party's presidential nominee next year, 54% of Republican voters chose Trump. 17% chose DeSantis, while none of the remaining candidates – former Vice President Mike Pence, US Senator Tim Scott, former South Carolina Governor Nikki Haley, entrepreneur Vivek Ramaswamy, or former New Jersey Governor Chris Christie – scored more than 3%.
Trump has retained a similar level of support for several months, despite facing criminal charges for his alleged mishandling of classified documents, an impending grand jury indictment for his alleged attempts to reverse his 2020 election loss, and state level cases in New York and Georgia. Trump has described these cases as a "Stalinist" effort by President Joe Biden to take out his most formidable political opponent.
The poll found that 22% of voters who believe that Trump has committed "serious federal crimes" would still choose the former president in a head-to-head contest against DeSantis. Despite DeSantis' campaign portraying him as a more "electable" figure than Trump, 58% of Republican voters described Trump as "able to beat Joe Biden," compared to 28% who chose DeSantis.
Trump is leading the entire Republican field across all demographics, the poll found. Low income and high income voters both chose Trump, as did those with and without college degrees. Supporters and opponents of abortion sided with the former president, as did those for and against military aid to Ukraine, and those who support and oppose government spending cuts.
DeSantis has polled a distant second since he entered the race in May, with only a handful of outlier polls showing him tying with or beating Trump.
The situation for every other candidate has remained bleak, with none bar one managing to break single digits in any survey thus far. Ramaswamy surged to 10% in a Harvard poll last week, after a crowd-pleasing performance at Blaze Media's Family Leadership Summit in Iowa. The Harvard survey placed DeSantis only two points ahead of Ramaswamy at 12%, and Trump at 52%.
You can share this story on social media: