DeSantis jeered at shooting vigil
The Republican presidential candidate has drawn criticism for loosening gun laws in Florida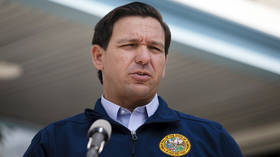 Florida Governor Ron DeSantis, a candidate for the Republican presidential nomination in 2024, was jeered by attendees at a Sunday vigil in Jacksonville for victims of a racially-motivated mass shooting.
Hundreds of mourners gathered to pay tribute to three black victims who officials say were killed on Saturday at a Dollar General store by Ryan Christopher Palmeter, a 21-year-old white male. The shooting reportedly involved guns legally purchased by Palmeter even though he had previously been involuntarily committed for psychiatric care. Authorities also indicated that the suspect left behind a manifesto which contained a range of racist content.
DeSantis, who has loosened gun laws in Florida during his governorship, was loudly heckled while delivering comments at the vigil, which took place a block away from the scene of the attack. The reaction prompted the lawmaker to step away from the microphone, before a local councilwoman addressed the crowd.
"It ain't about [political] parties today," said Ju'Coby Pittman, who represents the community in which the shooting happened. "A bullet don't know a party."
DeSantis later returned to the microphone and described the shooter as a "major league scumbag." He added that the state would provide financial support to the predominantly-black Edward Waters University in the area, as well as to families affected by the shooting.
Local media reports indicated that the university was Palmeter's initial target for the shooting, but that he left the scene after being approached by a security officer.
"What he did is totally unacceptable in the state of Florida," DeSantis said. "We are not going to let people be targeted based on their race."
DeSantis has come under criticism from political opponents for introducing a range of measures to loosen gun laws in Florida, including allowing gun owners to carry firearms without a permit.
Palmeter allegedly killed three people during the attack – Angela Carr, 52, Anolt Laguerre Jr, 19, and Jerrald De'Shaun Gallion, 29 – before fatally shooting himself as police arrived on the scene.
"He knew what he was doing. He was 100% lucid," Sheriff TK Waters said of the incident. "Finely put: this shooting was racially motivated and he hated black people." Waters added that racist literature linked to the suspected gunman appeared to be "the diary of a madman."
Palmeter was involuntarily detained for 72 hours in 2017 under mental health legislation. He was released after a psychological examination, although this was not recorded and therefore did not appear in background checks when he purchased the firearms used in the shooting.
You can share this story on social media: