Three dead after 'racially motivated' shooting in Florida – police
A white gunman opened fire at a Jacksonville dollar store, specifically targeting black people, the local sheriff has said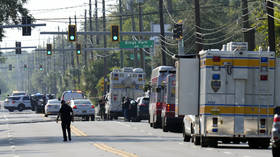 The fatal shooting of three black victims in Jacksonville, Florida on Saturday was "racially motivated," police say.
The assailant opened fire at around 2pm local time at a Dollar General store. He wore a tactical vest and was armed with an "AR-style" rifle and handgun, Jacksonville Sheriff T.K. Waters told reporters. He added that the gunman took his own life.
"This shooting was racially motivated and he hated black people," Waters said. According to the sheriff, the suspect left messages for his parents, the media, and police.
"He targeted a certain group of people, and that's black people, that's what he said he wanted to kill. And that's very clear," Waters explained.
No details have yet been released about the suspect's identity, other than that he was in his 20s.
The incident took place not far from Edward Waters University, a historically black school. The university has issued a "stay in place" order for students residing on campus.
Jacksonville Mayor Donna Deegan condemned the gunman. "One shooting is too much but these mass shootings are really hard to take," she told a local TV station.
Florida Governor Ron DeSantis called the shooter a "scumbag," who "took the coward's way out" rather than accept responsibility for his actions.
In 2015, white supremacist Dylann Roof killed nine people inside a historically black church in Charleston, South Carolina. Roof was sentenced to death two years later.
You can share this story on social media: