Private equity firm plans new city in California – NYT
The newspaper has named the venture capitalists and tech executives behind a secretive $800 million land buy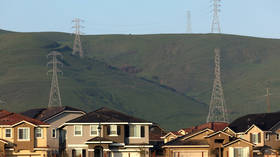 A group of venture capitalists, tech investors and other Silicon Valley elites led by a Goldman Sachs banker plans to build a futuristic megacity in rural Solano County, California, the New York Times reported on Friday. The paper named some of the individuals behind a massive land buy for the project that has puzzled and alarmed residents for years.
Former investment banker Jan Sramek, operating under the name Flannery Associates, has been lining up big-name investors like LinkedIn co-founder Reid Hoffman and venture capitalist Marc Andreessen since 2017 to fund the acquisition of over 140 properties in the area known as Montezuma Hills. The buys span 50,000 acres and are worth a total of $800 million, NYT revealed.
The eventual goal, according to a survey sent to Solano County residents last week and seen by the San Francisco Standard, was to establish a development with "tens of thousands of new homes, a large solar energy farm, orchards with over a million new trees, and over 10,000 acres of new parks and open space."
The idea supposedly emerged from Silicon Valley bigwigs' longstanding gripes about real estate in the Bay Area, one of the most expensive places to build in the US due to a dense thicket of local regulations and zoning laws. According to NYT, venture capitalist Michael Moritz got things rolling by pitching the creation of an entirely new city in a note to a potential investor in 2017.
Tech investor Laurene Powell Jobs, Stripe co-founders Patrick and John Collison, and former Github CEO Nat Friedman have also reportedly contributed to Moritz's dream of a walkable, clean-tech-powered utopia constructed from scratch 60 miles outside the crime-plagued city of San Francisco.
The project would supposedly generate "thousands of jobs and hundreds of millions in tax revenue" in just its first decade, according to the survey that was Flannery's first public communication with its new neighbors.
While the firm bought land at a rapid clip, often paying several times the market value for parcels that were not previously for sale, the true identity of the investors remained unknown until Friday.
Flannery's land surrounds Travis Air Force Base on three sides, which led some local officials to belatedly raise national security concerns upon discovering just how many tens of thousands of acres had actually been bought from under their noses as rumors swirled the buyer was actually the Chinese government – or maybe Disney.
Solano County Farm Bureau manager Lisa Shipley has described the acquisition spree as "secretive" and "aggressive," as the investors actually sued some property owners for supposedly inflating the value of their parcels. Those tactics could ultimately work against the project, as a vote will be required to rezone the land from agricultural to residential.
You can share this story on social media: