US government sought control over TikTok – report
A draft agreement would have given Washington unfettered access to the Chinese-owned platform's servers and other property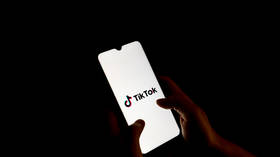 The Biden administration sought to gain control over nearly every aspect of the inner workings of social media behemoth TikTok as part of negotiations allowing its continued operation in the US, according to a draft agreement obtained by Forbes last week.
The draft, which was seen by Forbes and dated last summer, is the product of months of exchanges between ByteDance and the Committee on Foreign Investment in the United States (CFIUS), which oversees foreign involvement in business deals that could potentially impact national security and has been investigating ByteDance for four years.
The agreement, which at the time ran to nearly 100 pages and has not reportedly been finalized, would give the White House a level of control over the Chinese-owned platform even greater than that which it was found last year to be exercising over US-based competitors like Facebook and Twitter (now X), allowing government officials to not only monitor and influence conversations on the platform, but also to interfere in the day-to-day operations of TikTok in the US.
Government agencies like the Department of Justice and Department of Defense would have full authority to examine TikTok's servers, equipment, records, facilities, and other properties, according to the draft. They could also block changes to the app's US terms of service, privacy policy, and moderation policies and veto the hiring of any individual involved in data security for the US.
The agreement would also force TikTok and its parent company ByteDance to submit to outside audits, assessments, code inspections, and cybersecurity checks by supposedly independent entities chosen by the US government. The company would be required to foot the bill for these intrusions.
The platform's US staff could even have been required to exclude ByteDance's executives from security-related decisions, instead deferring to an executive security committee whose actions would also be concealed from ByteDance. This committee's primary responsibility would be maintaining US national security first and TikTok's profitability second.
TikTok has been threatened repeatedly with a blanket ban or forced sale of its US assets to an American competitor as both President Joe Biden and his predecessor, Donald Trump, claimed the platform is used by Beijing for information warfare.
CFIUS renewed the call for a ban or sale in March after the DOJ launched an investigation into ByteDance employees using TikTok to spy on American journalists. A spokesperson for ByteDance confirmed the surveillance but attributed it to rogue employees who have since been fired.
TikTok has over 150 million American users spending 90 minutes or more on the platform. While the company pledged in 2021 to isolate US user data on servers owned by tech giant Oracle to assuage spying concerns, Biden prohibited its use by federal employees in December and dozens of state and city governments have followed suit.
You can share this story on social media: