Caribbean nation to legalize religious marijuana
The Bahamas also aims to decriminalize cannabis possession and allow its medicinal use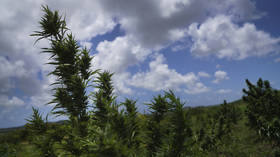 The government of the Bahamas has introduced several bills aimed at legalizing marijuana for religious and medicinal purposes, and decriminalizing the possession of small amounts of the drug. Lawmakers hope that the measures will boost the islands' tax revenues.
If the bills are approved, the government will issue licenses for the cultivation, transport, and sale of marijuana for religious or medical use to Bahamian-owned companies, while license for cannabis research, testing, and manufacturing would be issued to companies that are at least 30% Bahamian-owned, the Associated Press reported on Friday.
The sale of marijuana for recreational purposes would still be illegal, but those caught with less than 30 grams would pay a $250 fine and not receive a criminal record. At present, possession can be punished with a fine of up to $500,000 or a 30 year prison term.
Those using pot for spiritual purposes will only be allowed to do so on the premises of a licensed religious organization, Attorney General Ryan Pinder told reporters at a press conference on Thursday.
While more than 90% of Bahamanians are Christians, the islands are home to small communities of Rastafarians, whose principal religious sacrament is the smoking of cannabis.
In 2018, the heads of 19 Caribbean nations, including the Bahamas, Barbados, Haiti, Jamaica and others, agreed to "review marijuana's current status with a view to reclassification." Antigua and Jamaica have since decriminalized the personal use of the drug, while the US Virgin Islands authorized recreational and religious use earlier this year.
Pinder told reporters that public hearings on the bills will be held in September, and that legislation could be approved before next year.
You can share this story on social media: