Amsterdam's Red Light District cracks down on cannabis
Smoking marijuana in the area will soon be illegal during certain hours, according to new regulations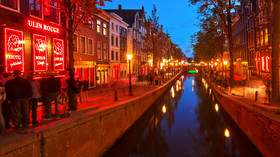 Officials in Dutch capital Amsterdam have unveiled strict new regulations in an effort to improve conditions in the city's Red Light District. The laws aim to reduce disturbances caused by tourists, although they are set to have a large impact on businesses.
According to the new rules, which are set to come into force in mid-May, smoking cannabis will be entirely outlawed in public spaces in the district between 4pm and 1am, Thursday to Sunday. However, city officials say the measure could later be extended to include a ban on smoking marijuana outside coffee shops as well.
Businesses will have to limit their operating hours, while sex workers will have to shut up shop by 3am. Restaurants and bars will have to close by 2am on Fridays and Saturdays. Additionally, no new visitors will be allowed into the old city district after 1am, according to the city council.
Shops, cafes, and liquor stores in the district, which are currently banned from selling alcohol from Thursday to Sunday after 4pm, will have to completely remove all alcohol from their storefronts during that time, or hide it from view.
In a press release announcing the legislation, a spokesperson for the city council stated that the new laws will hopefully give locals more "peace late at night." It argued that the atmosphere in the district becomes "dire, particularly at night" as there are large numbers of people "under the influence that hang around for a long time."
Following the announcement, local Christian Democrat leader Diederik Boomsma told Dutch media that he was overjoyed with the new legislation, insisting that Amsterdam needs to "finally get rid of its image as a Walhalla for paid sex and drugs."
"Some days you can't even walk around the center without breathing in the persistent stench of cannabis fumes, with glassy-eyed tourist zombies staggering about. That has to stop," he said.
Amsterdam is known the world over for its cannabis cafes and Red Light District, which attract millions of tourists every year. But locals have long complained that these venues attract street dealers, and that the rampant drug and alcohol use drive up crime rates.
City officials are also looking to launch a "stay away" campaign in the spring, to deter tourists from traveling to the capital purely for drug, alcohol, and sex purposes.
You can share this story on social media: