Japanese warplanes sent to monitor Chinese bombers – Tokyo
Beijing's aircraft have been spotted near Okinawa and Taiwan, the Defense Ministry has said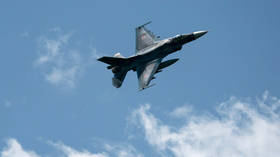 Tokyo has scrambled warplanes to track Chinese bombers and drones off Okinawa and Taiwan, Kyodo News reported on Friday, citing the Japanese Defense Ministry. The jets were dispatched amid continuing tensions in the region.
According to the MOD, two Chinese H-6 bombers were detected while flying through the strait between Okinawa and Miyako islands. Okinawa is home to Kadena Air Base, the largest US military site in the Asia-Pacific.
The Japanese military also said its aircraft were sent to monitor a Chinese BZK-005 reconnaissance drone and another "likely Chinese" drone flying between Japan's westernmost Yonaguni island and Taiwan.
Taiwan's Defense Ministry, meanwhile, reported on Saturday morning that 32 Chinese military aircraft and nine warships were spotted around the island. It added that 20 planes, including eight J-10 and two Su-30 fighters, had crossed the median line of the Taiwan Strait or entered the island's air defense identification zone.
Taiwan's own aircraft, as well as naval ships and land-based missile systems, were activated to monitor the situation, the MOD said.
The maneuvers were reported amid economic and military tensions between Beijing on one side, and Tokyo and Taipei on the other. On Monday, mainland China banned imports of mangoes from Taiwan, citing food safety issues. At the same time, Beijing announced a total ban on Japanese seafood in response to Tokyo's decision to begin dumping wastewater from the Fukushima Nuclear Power Plant, the site of the 2011 disaster, into the Pacific Ocean.
China has also been warning Taipei against "collusion" with the US. Beijing, which considers Taiwan its own territory, opposes the local government's diplomatic contacts with foreign countries, as well as the sale of American weapons to Taiwan. The State Department greenlighted the most-recent military deal with Taiwan on Wednesday, allowing the purchase of F-16 equipment and spare parts.
China held large-scale military drills around Taiwan earlier this month, after Taiwanese Vice President Lai Ching-te toured the US. Beijing did the same last year, following then-US House Speaker Nancy Pelosi's trip to the island.
You can share this story on social media: