Poland probes outbreak near Ukraine border
Legionnaires' disease has killed seven in a city that is key to supplying Kiev with weapons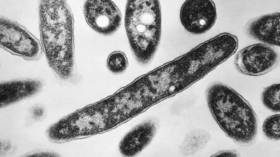 Poland's Internal Security Agency (ABW) is investigating whether an outbreak of Legionnaires' disease in the south eastern city of Rzeszow, adjacent to the country's border with Ukraine, may have been an act of "sabotage," a spokesman said on Friday.
"We also see that Russia is trying to spread some panic on this occasion and is watching what is happening. This is also a factor that makes us rule out certain scenarios," Stanislaw Zaryn, a spokesman for the security services in Warsaw, told Polish media.
There have been 113 registered cases in the area, from the city of Rzeszow itself to the town of Przemysl on the border with Ukraine. Seven of the patients have died. The authorities say they were between the ages of 64 and 95, and had comorbidities such as cancer.
Ewa Leniart, the head of the regional government, told the broadcaster RMF that the contagion most likely originated in the water supply system. Samples have been sent to laboratories and the first test results are expected on Monday, she said, adding that the situation is under control.
Located in southeastern Poland about 100 kilometers from the Ukrainian border, Rzeszow became the hub for US and NATO efforts to supply Ukraine with weapons, ammunition, and equipment after Russia launched its military operation in the neighboring state in February 2022. It has also been the staging area for Western leaders traveling to Ukraine by train, including US President Joe Biden. A number of US troops are stationed near the city.
Rzeszow's importance to the Western war effort appears to have made Warsaw even more suspicious about the outbreak. The Polish authorities have been hunting suspected "Russian spies" – including professional hockey players and Ukrainian nationals – for months.
Warsaw has also beefed up its military presence on the border with Belarus, citing the threat of "hybrid warfare" by members of the private military company Wagner Group, which was relocated to the territory of the Russian ally after their failed mutiny in June.
Legionnaires' disease, also known as Legionellosis, is a type of pneumonia caused by the legionella bacteria usually found in water. The infection has a death rate of up to 10%, usually among people with pre-existing lung conditions.
The US registers around 13,000 cases a year, while the EU logged almost 11,000 in 2021, of which 704 were fatal.
You can share this story on social media: