Biden recalls minor fire in his house in address to Hawaii blaze survivors
The US president claimed flames almost deprived him of his wife, his car and his cat in incident 19 years ago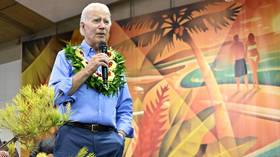 US President Joe Biden has told residents of the fire-ravaged Hawaiian island of Maui that he could understand their suffering because of his experience of a small fire at his own house in 2004.
Biden arrived in Maui on Monday to inspect the aftermath of the deadliest wildfires to occur in the US in more than a century. The official death toll from the disaster currently stands at 115 and is expected to climb, with Maui County mayor Richard T. Bissen Jr. saying that some 850 people are still missing.
Several thousand buildings, mainly private homes, were destroyed by the fierce blaze in early August, with local authorities estimating that more than $5 billion is needed to rebuild.
"I don't want to compare difficulties, but we have a little sense, Jill and I, what it's like to lose a home," the US president told residents of the town of Lahaina, which has been devastated by the wildfires.
"Years ago now, 15 years ago, I was in Washington doing 'Meet the Press.' It was a sunny Sunday and lightning struck at home on a little lake that is outside of our home, not on a lake, a big pond," the 80-year-old recalled.
"And it hit a wire and came up underneath our home into the heating ducts, air conditioning ducts. And to make a long story short, I almost lost my wife, my '67 Corvette and my cat," Biden claimed, adding that it was "not a joke."
The fire at Biden's house at Wilmington, Delaware occurred in August 2004 and had been described as "insignificant" by the local fire department. In its report back then, AP said that a "small fire that was contained to the kitchen" had been taken under control by emergency services in the space of 20 minutes.
The US president has mentioned this incident on a few occasions previously, each time providing different accounts of events. Last year, he claimed that "we almost lost a couple firefighters" during that blaze. In 2012, he went as far as saying that he "had a house burn down with my wife in it," but then corrected himself by pointing out that "she got out safely."
Biden received a rather cold welcome in Maui as the locals blame Washington for abandoning them amid the crisis. Some took to the streets, chanting "Go home, Joe!" and holding banners reading "No Comment," in reference to the US leader's refusal last week to answer questions about the rising death toll in the wildfires.
You can share this story on social media: