Trump bail amount revealed
The 45th US president must pay $200,000 to avoid jail in the state of Georgia on election "conspiracy" charges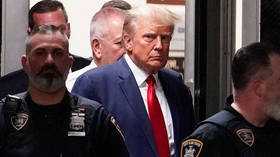 Former US president Donald Trump will need to post a bond in the amount of $200,000 by noon Friday if he wishes to stay out of jail, according to court documents made public on Monday by Fulton County district attorney (DA) Fani Willis.
The court document lists an $80,000 bond for the alleged violation of the Racketeer Influenced and Corrupt Organization (RICO) Act, and $10,000 each for 12 other counts. The remaining 28 charges against the former president do not appear to require bail.
Last week, Willis charged the 45th president and 18 of his associates with a total 41 counts of racketeering, conspiracy and making false statements, claiming they worked to "unlawfully change the outcome" of the 2020 election. The Democrat DA claimed that the Republican president and his aides knew that Joe Biden had won the election fair and square.
Among those indicted alongside Trump are his White House chief of staff Mark Meadows and a number of current and former lawyers, including the former mayor of New York City, Rudy Giuliani.
The local charges pressed by Willis are the fourth criminal case against the 45th president so far this year. Trump also faces local charges in New York, for allegedly paying hush money to porn actress Stormy Daniels during his 2016 campaign, as well as two federal cases led by special counsel Jack Smith. The first involves allegations of unlawful retention of classified documents after he left the White House, while the second has to do with the 2020 election and the January 6, 2021 riot at the US Capitol.
Trump has continued to insist that there were irregularities in the 2020 election, which Biden officially won with the most votes ever in US history – and by the exact same electoral college margin by which Trump defeated Hillary Clinton in 2016.
You can share this story on social media: