Serial killer nurse sentenced over baby murders
The woman was given a rare life term for the homicide of seven babies and attempting to kill another six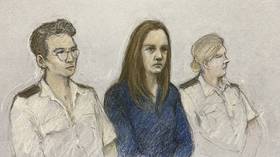 Former nurse Lucy Letby, 33, was sentenced to life in prison on Monday for the murder of seven babies and the attempted murder of 6 more in a British hospital. The sentence was announced by Justice James Goss, who said the serial killer was especially callous, cruel, and cunning, acting with "malevolence bordering sadism."
The nature of the killings has provided the "exceptional circumstances" necessary to hand Letby the most severe punishment possible: a life sentence, the judge declared. Letby is now the fourth-ever woman in Britain to receive this sentence, which ensures she will never leave prison.
The defendant refused to take part in the court hearing, choosing to stay in her cell rather than face the parents of her victims.
Addressing the absent defendant, the judge stated "During the course of this trial, you have coldly denied any responsibility for your wrongdoing. You have no remorse. There are no mitigating factors."
A week previously, the former nurse had been found guilty of the multiple homicides and the attempted murder of another six children. All of the offenses were committed by the serial killer during her time at the neonatal unit of the Countess of Chester Hospital near Liverpool between 2015 and 2016. British authorities are still investigating her work at the unit.
At the time, doctors were alarmed by a string of inexplicable deaths and injuries among newborn and premature babies at the unit. The hospital's managers initially dismissed the situation until it prompted a police investigation, which led to Letby's arrest in 2018.
A search at her residence recovered handwritten notes in which she confessed to murdering the babies, admitting she was a "horrible, evil person." During the court hearings, however, Letby flatly denied any wrongdoing and maintained her innocence, without establishing any motive behind her crimes.
Letby used various methods to kill the babies, including injecting them with air, poisoning them with insulin, and force-feeding them milk. One of the babies, a girl born 15 weeks early, survived three murder attempts, ending up permanently disabled with quadriplegic cerebral palsy.
Sometimes, the homicidal nurse expressed remorse after killing the babies, making keepsakes for their parents, as well as bathing and dressing their bodies for burial. "I don't think we will ever get over the fact that our daughter was tortured till she had no fight left in her and everything she went through over her short life was deliberately done by someone who was supposed to protect her and help her come home where she belonged," the mother of a girl identified only as Child I during the hearings, said in a statement read during Letby's sentencing.
You can share this story on social media: