Zelensky requests meeting with Serbian president
Aleksandar Vucic has said he expects Ukraine's leader to discuss the conflict with Russia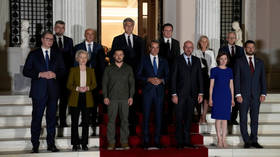 Serbian President Aleksandar Vucic told reporters on Monday that his Ukrainian counterpart, Vladimir Zelensky, has requested a private meeting at the upcoming 'Western Balkans' summit in Athens, Greece.
Vucic said that he expected his Russia policy to be the main topic of the talks, but on that "there are things Serbia cannot agree to." The EU has unsuccessfully pressured Belgrade to sanction Moscow for the past 18 months.
"Tomorrow morning, at the request of the Ukrainian president, I will have a bilateral meeting with him," Vucic confirmed. "We will discuss face to face everything that has happened regarding Kosovo, recognition and non-recognition of territorial integrity of countries, and other issues."
Kosovo is a province of Serbia under NATO control since the 1999 war. Belgrade has refused to recognize its 2008 declaration of independence. Ukraine does not recognize it either, though some lawmakers in Kiev have threatened to do so because Serbia has declined to join the US and EU sanctions against Russia.
Ukraine recognizing Kosovo "would be a major blow to us," Vucic said. "I'll try to talk to Zelensky."
The Serbian leader had a series of meetings in neighboring Hungary over the weekend, including PM Viktor Orban and Hungarian President Katalin Novak, Turkish President Recep Tayyip Erdogan, as well as the leaders of Kyrgyzstan, Turkmenistan, and Uzbekistan.
He described the upcoming 'Western Balkans' conference as "a bit strange in format," noting that Greece does not recognize Kosovo but invited its prime minister, Albin Kurti, to attend anyway. Hungary was not invited for some reason. Representatives of EU members Romania, Bulgaria, and Croatia were invited, as well as the prime ministers of Bosnia-Herzegovina, North Macedonia, and the presidents of Montenegro and Moldova – as well as the leader of Ukraine.
Asked about comments by an opposition politician that Serbia is "sitting on two chairs" by trying to join the EU and remain friendly with Russia, Vucic said he wants the country to remain sovereign and independent, while also on the "European path."
"I don't want someone else to make decisions for us. Look at some neighboring countries, they get told who in the cabinet gets to make coffee, by ambassadors of countries that don't dare do so here," Vucic said. "We have one chair, the Serbian chair. I am proud of that chair and I don't care for any of yours."
Vucic has recently said that the West cannot defeat Russia on the battlefield and that it would be in the best interest of the US to try and make peace. Zelensky and the government in Kiev have refused any negotiations with Moscow, however.
You can share this story on social media: