'Neutral' Switzerland pledges more cooperation with NATO
Swiss defense chiefs are pushing for closer ties to Western powers, amid warnings that the country's neutrality is at risk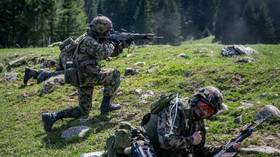 Switzerland will step up its military cooperation with NATO "as much as possible," a new policy document has revealed. While the country's military leaders have pushed for more integration with the US-led bloc for some time, lawmakers in Bern are concerned that Switzerland's famous neutrality will be compromised.
Swiss troops already attend some foreign training exercises, but military chiefs will "expand this bilateral and multilateral training cooperation as much as possible," according to a report published on Thursday by the Swiss army. Although air force and special forces units sometimes train with NATO countries, the report calls for Switzerland's ground troops to take part in the bloc's joint exercises, and to operate in line with NATO doctrine.
The report also calls for Switzerland to join the EU's Permanent Structured Cooperation (PESCO) defense framework and its European Sky Shield Initiative – a bloc-wide air defense program announced by German Chancellor Olaf Scholz last year.
These measures are necessary due to "the Russian war of aggression against Ukraine," the report stated, adding that "an epoch of peace in Europe is coming to an end."
Switzerland has maintained a policy of neutrality since 1815, and did not back a side in either of the two World Wars. Since the start of the conflict in Ukraine, the country has imposed sanctions on Russia and sent economic aid to Kiev, but has refused to supply weapons or allow other countries to send Swiss arms or ammunition to Ukraine.
Now, a faction within the Swiss government aims to loosen this traditionally iron-clad neutrality. Swiss Defense Minister Viola Amherd and army chief Thomas Sussli have both called for more Swiss participation in NATO drills, including Article 5 exercises, in which the bloc trains to respond as one to an attack on a single member.
Their enthusiasm has raised concerns in Bern, with the Social Democratic Party and the Swiss People's Party insisting that any cooperation with NATO places centuries of neutrality at risk.
"At some point NATO will say it's time to stop cherry-picking," Mauro Tuena of the People's Party said in March, after Sussli called for "intensive cooperation" with the Western bloc. "Then, of course, it's over with neutrality," Sussli warned.
NATO Secretary General Jens Stoltenberg has not embraced the idea of welcoming Swiss soldiers to the bloc's drills. "Several allies have reservations because Switzerland has not allowed them to pass on ammunition to Ukraine," he said in March, adding that "we are asking all our partners, including Switzerland, to at least allow the re-export of arms and ammunition."
You can share this story on social media: