New York City bans TikTok for officials
The popular Chinese social media app will be prohibited on government devices in the Big Apple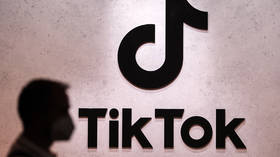 New York City has banned TikTok from government-owned devices, becoming the latest American jurisdiction to clamp down on the Chinese-owned platform over cybersecurity concerns. The city's ban will affect several of its own TikTok accounts.
The move was announced on Wednesday, with the city's agencies and employees given 30 days to delete the app from municipal smartphones and devices. City-owned networks and computers will no longer be able to access the platform from that point onwards.
A spokesman for Mayor Eric Adams said that the ban was imposed as TikTok "posed a security threat to the city's technical networks."
New York State has already banned TikTok on state-issued mobile devices, while more than 20 US states and a host of cities have issued similar orders in recent months. In February, the White House ordered all federal agencies to wipe the app from government-owned devices, with the decree extended to cover government contractors earlier this summer.
Both the FBI and the Federal Communications Commissions have claimed that TikTok could pass user data to the Chinese government. TikTok insists that it "has not shared, and would not share, US user data with the Chinese government, and has taken substantial measures to protect the privacy and security of TikTok users."
The Chinese Foreign Ministry has accused the US of "abusing state power to suppress foreign companies," and vigorously denies using the app to conduct espionage.
As of Wednesday, TikTok accounts belonging to Adams and the city's Departments of Sanitation and Parks and Recreation all bore the message "This account was operated by NYC until August 2023. It's no longer monitored," according to the New York Times.
Adams' administration made liberal use of TikTok to reach out to residents of the Big Apple. Prior to the ban, the Department of Sanitation's account amassed nearly 50,000 followers and earned praise from local media for its "oddly excellent" blend of information and entertainment.
More than a billion people worldwide use TikTok every month, and the video-sharing platform is currently the most-downloaded social media app in the US, according to analysis from SimilarWeb, and there are more than 150 million TikTok users in the country. Authorities in Montana are also preparing to go ahead with a state-wide ban, due to come into effect in January.
You can share this story on social media: