Hunter Biden paid consulting firm to sanitize his Wikipedia – media
The presidential scion wanted lines about his work with Burisma and a dodgy financier removed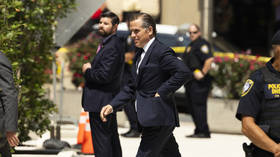 Hunter Biden, son of US President Joe Biden, paid a high-powered consulting firm to whitewash his Wikipedia entry in 2014, according to emails obtained by journalist Lee Fang from Biden's infamous laptop.
The emails show the younger Biden reached out to public relations and lobbying giant FTI Consulting to make changes to his page, listing desired edits and connecting his contact at FTI, Ryan Toohey, to Biden's partner at his firm Rosemont Seneca, Eric Schwerin.
The changes included deleting his ties to disgraced financier Allen Stanford, whose Stanford Financial Group had a joint venture with the Biden family hedge fund Paradigm Global Advisors, which Hunter ran as CEO with the help of his uncle James Biden for five years. Stanford is currently serving a 110-year prison sentence for running a $7 billion Ponzi (pyramid) scheme.
Other edits included removing the CIA reference from a line about his work with CIA cutout the National Endowment for Democracy and deleting criticism of his work with Ukrainian energy firm Burisma, the topic for which he is best known, aside from perhaps his drug addiction.
Toohey confirmed in an email back to Biden and Schwerin that the desired edits had been made, promising, "we'll be keeping an eye on it for changes."
A month after FTI was employed to polish his image, the article had been scrubbed of all references to Stanford by editor 'AmeliaChevalier' – the first in a volley of helpful edits that soon restored the page to something any presidential offspring could be proud of.
One of the editors burnishing Biden's entry, 'Earflaps,' was named in an on-site expose, 'The oligarchs' socks', as the "sockpuppet" (alternate account) of a paid editor whose "reputation management" services had been contracted either by Russian oligarchs or by PR firms working for them.
The younger Biden's article has grown significantly since then but remains favorable. Its introduction takes pains to specify that while "some of the emails" found on the laptop he abandoned "were authentic," the files that could be found online were only "purportedly from the laptop rather than confirmed to be." It also claims that Hunter and Joe Biden have unfairly "been the subjects of false allegations of corrupt activities in a Biden-Ukraine conspiracy theory" since 2019.
The article's edit history reveals several editors - 'Specifico', 'Objective3000', 'Neutrality', and others – known for enforcing conformity to the neoliberal centrist viewpoint Wikipedia's administrators have decided constitutes neutrality among articles in the American Politics topic area – a slant bemoaned by Wikipedia co-founder Larry Sanger in a recent interview.
The paid editors' efforts nearly a decade ago to keep Stanford and his pyramid scheme out of the article appear to have been successful, as the financier is not mentioned once in the text.
You can share this story on social media: