France's Sarkozy urges West to get real on Crimea
The EU and Russia need each other, the former French president has said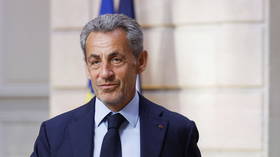 Diplomacy is the only way to resolve the conflict in Ukraine, which should be a neutral country and a bridge between Russia and the EU, the former president of France, Nicolas Sarkozy, said in an interview on Wednesday.
Sarkozy, 68, was speaking to Paris daily Le Figaro about his upcoming book, 'The Time of Battles', a memoir that covers the 2009-11 period of his 2007-12 presidency. "We need the Russians and they need us," the outlet titled the interview.
Addressing the Ukraine situation, Sarkozy argued that Russian President Vladimir Putin was wrong to "invade" the country and has failed to achieve his objectives, but that he's "not irrational" and should be approached through diplomacy.
"Russia is a neighbor of Europe and will remain so," Sarkozy said, so the EU needs to get out of the current impasse because "in this regard, European interests are not aligned with American interests. We cannot stick to the strange idea of ​'fighting a war without fighting.'"
In Sarkozy's vision, a compromise would involve the West recognizing Crimea as Russian, because "when it comes to this territory, which was Russian until 1954 and where a majority of the population has always felt Russian, I think any step back is illusory." Ideally, he added, there ought to be a referendum "organized under strict control of the international community," to ratify the current state of affairs.
The same would apply to "disputed territories of eastern and southern Ukraine," the former French leader said, though that would depend on what happens on the ground.
"If the Ukrainians do not completely manage to win them back, then the choice will be between a frozen conflict – which we know will inevitably lead tomorrow to a new hot conflict – or we can come out on top by resorting, again, to referendums strictly supervised by the international community to settle these territorial questions in a definitive way," he told Le Figaro.
Ukraine "must remain" a bridge between Europe and Russia, Sarkozy argued, noting that forcing it to choose between the East and the West "seems to me contrary to the history and geography of this complex region."
"We are making false promises that will not be kept," he said of the prospect of Kiev's membership in the EU and NATO, not just because Ukraine doesn't meet the requirements but because "it must remain a neutral country."
This neutrality is not an "insult" and would be guaranteed by "extremely strong security assurances" from the West, Sarkozy said.
Moscow has said that Kiev's neutrality is a non-negotiable Russian national interest. The Ukrainian government has sought NATO and EU membership ever since the US-backed coup in 2014, which triggered the referendum in Crimea to rejoin Russia and the uprising in Donbass.
Sarkozy's successor, Francois Hollande, helped broker the Minsk agreements aimed at peacefully resolving the Donbass conflict. Hollande and former German Chancellor Angela Merkel admitted last fall, however, that the Minsk process had been a trick intended to buy Kiev time to prepare for war.
You can share this story on social media: