Kissinger makes Ukraine peace prediction
With China involved, serious negotiations could begin by the end of the year, the elder statesman said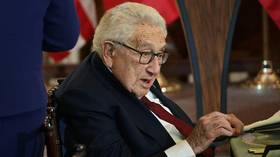 Former US Secretary of State Henry Kissinger has told CBS News that the conflict in Ukraine may be approaching a turning point, and that Chinese-brokered peace talks could begin by the end of 2023.
"Now that China has entered the negotiation, it will come to a head, I think by the end of the year," the 99-year-old diplomat told CBS in an interview broadcast on Sunday. By that time, he continued, "we will be talking about negotiating processes and even actual negotiations."
With the release of its 'Position on the Political Settlement of the Ukraine Crisis' in February, China put itself forward as a potential mediator between Moscow and Kiev. The Chinese plan was rejected outright by the US and EU, while Russian President Vladimir Putin described some of its 12 points as "in tune" with Moscow's position, and Ukrainian President Vladimir Zelensky welcomed only a handful of its points, but maintains that Kiev will not compromise with Russia in any way.
Zelensky's refusal to negotiate with Putin's government – the Ukrainian leader banned contact with the Kremlin in a decree last October – is just one stumbling block faced by China or any other potential middleman.
Russia considers the conflict in Ukraine a proxy war between itself and NATO, and Russian Foreign Minister Sergey Lavrov said on Friday that any negotiations would not be held "with Zelensky, who is a puppet in the hands of the West, but directly with his masters."
In Washington, the administration of President Joe Biden publicly claims that it is up to Ukraine to decide when to seek peace. Zelensky has been offered no incentives by the US to do so, with Biden offering to continue supplying him with weapons "for as long as it takes" to achieve his war aims. Among these aims is the capture of Crimea, a Russian territory since 2014. American military leaders have publicly admitted that the chances of this happening are slim to none.
Kissinger drew the ire of Kiev last year when he suggested that Ukraine should accept a return to the "status quo ante," or relinquish its territorial claims to Crimea and grant autonomy to the Donetsk and Lugansk People's Republics, in the name of peace. He has since suggested that these territories become the basis of negotiations after a ceasefire and Russian withdrawal.
Moscow has repeatedly said that it is open to talks with Kiev but only if Ukraine "recognizes the reality on the ground," including the new status of the regions of Donetsk, Lugansk, Kherson, and Zaporozhye as parts of Russia. Otherwise, the Kremlin has stated, Russia will settle the conflict by military means.
You can share this story on social media: