US admits 'concern' over Russia-China relationship
Growing military ties between the two powers has triggered anxiety in Washington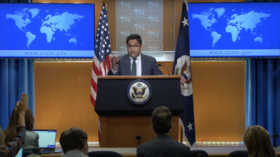 The US views improved relations between Beijing and Moscow with "concern," the State Department said, days after the Pentagon dispatched warships to confront Chinese and Russian vessels engaged in joint naval drills.
During a Tuesday press briefing, State Department spokesman Vedant Patel discussed an upcoming summit between the US, Japan, and South Korea, which is expected to place a heavy focus on the People's Republic. Asked whether the meeting could harm US efforts to "re-establish communication channels" with Beijing, Patel answered in the negative, but went on to voice worries about Russia-China ties.
"We also have been clear about the continued concern of the PRC and Russia deepening their relationship and the steps that they've taken as well. So I don't think these things are zero-sum. We can continue to pursue all of these things appropriately," he said.
Though the State Department has refrained from citing China by name in previous comments about the three-way summit scheduled for next week, unnamed US officials reached by state run Voice of America said the gathering would address "growing threats" posed by Beijing and Pyongyang.
Patel's remarks come soon after Washington sent several guided-missile destroyers to shadow a Russian-Chinese naval patrol, which had sailed near the coast of Alaska during a joint military drill. Multiple Republican lawmakers labeled the incident an "incursion," with Alaska Senator Dan Sullivan saying the US must confront "authoritarian aggression."
Commenting on the wargames, Liu Pengyu, the spokesman for the Chinese Embassy in Washington, insisted that "this action is not targeted at any third party and has nothing to do with the current international and regional situation," apparently referring to the Ukraine conflict and the stand-off between Washington and Beijing over Taiwan.
Moscow, meanwhile, said the Russian Navy would continue cooperation with its Chinese counterparts, noting that the joint patrol traveled through the Sea of Japan, La Perouse Strait, the Sea of Okhotsk, and the Kamchatka Strait.
With Russia becoming one of China's top trade partners, US officials have also taken aim at burgeoning economic ties between Russia and China. Though the White House has repeatedly accused Beijing of assisting Moscow in the conflict in Ukraine, the People's Republic has insisted that it is merely "carrying out normal economic and trade cooperation with countries around the world, including Russia."
The Chinese Foreign Ministry also argued that bilateral ties with Moscow "neither targets a third party, nor is it subject to interference and coercion by a third party," urging Washington to mind its own business.
You can share this story on social media: