US alarmed by Russia-China naval patrol
Washington recently sent four destroyers to meet 11 warships near Alaska, two American senators have said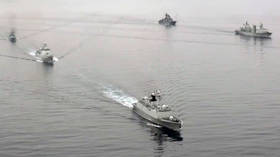 A large group of Russian and Chinese warships passed near the coast of Alaska last week, with a group of US destroyers scrambling to shadow the naval patrol, according to US defense officials and lawmakers.
In a statement on Saturday, two Republican Senators representing the state of Alaska – Lisa Murkowski and Dan Sullivan – said a total of 11 ships had been detected "transiting US waters in the Aleutians," citing a classified briefing, and labeling the activities "an incursion."
Sullivan said it marks "yet another reminder that we have entered a new era of authoritarian aggression led by the dictators in Beijing and Moscow," adding that he was pleased to see a robust US response involving four American destroyers.
Meanwhile, the US Northern Command has confirmed that Russian and Chinese ships were indeed conducting a patrol in the area, but did not provide details on the number of ships involved. The agency's spokesperson also noted, according to the Wall Street Journal, that "air and maritime assets under our commands conducted operations to assure the defense" of the US and Canada.
However, the official did not confirm the senators' remarks about an "incursion," stressing that the Chinese-Russian force "remained in international waters and was not considered a threat."
Brent Sadler, a senior research fellow at the Heritage Foundation, has called the patrol "a historical first" and "highly provocative" considering tensions over Taiwan and the Ukraine conflict, the WSJ reported.
On Friday, the Russian Defense Ministry stated that Moscow's Navy was continuing its patrols in the Pacific together with Chinese warships, sailing through the Sea of Japan, La Perouse Strait, the Sea of Okhotsk, and the Kamchatka Strait. It added that the drill involved a joint anti-submarine exercise, as well as helicopter landings and takeoffs from the decks of each other's ships.
Commenting on the wargames, Liu Pengyu, spokesman for the Chinese Embassy in Washington, insisted that "this action is not targeted at any third party and has nothing to do with the current international and regional situation," apparently referring to the Ukraine conflict and the stand-off between Washington and Beijing over Taiwan.
You can share this story on social media: