China and India playing into West's hands – BRICS originator
Divisions between Beijing and New Delhi are hindering the development of a common currency to rival the dollar, Jim O'Neill has said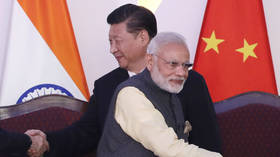 The US dollar would become "a lot more vulnerable" if BRICS members settled their rivalries and brought more countries into the fold, former Goldman Sachs economist and creator of the BRICS acronym Jim O'Neill told the Financial Times on Monday.
With the group's 15th summit just a week away, the BRICS bloc – an informal economic club comprising Brazil, Russia, India, China, and South Africa – is currently fielding applications from 23 countries across the non-Western world, while its development bank may soon welcome Saudi Arabia – a close partner of the US – as a member.
However, media reports suggest that India and China are at odds over how to admit new members, with New Delhi said to be insisting that potential admittees back its proposed UN Security Council reforms and settle for observer status before full membership. More members – and therefore more users of a potential common currency – are essential if BRICS leaders wish to usurp the global dominance of the US dollar, O'Neill told the British newspaper.
"It's a good job for the West that China and India never agree on anything, because if they did the dominance of the dollar would be a lot more vulnerable," O'Neill claimed.
In addition to their apparent disagreements over membership, China and India share a disputed Himalayan border, where repeated skirmishes have broken out in recent years. One incident in 2020 led to the deaths of at least 20 Indian and four Chinese troops. In the last week alone, India has banned some Chinese drone components and announced plans to station its upgraded, Russian-made MiG-29 fighter jets on its northern borders.
Russia floated the idea of introducing a BRICS currency last year. President Vladimir Putin said last June that member states were working on developing a new reserve currency based on a basket of the national currencies used by the five-nation bloc. So far, the idea has been welcomed by Brazilian President Luiz Inacio Lula da Silva, while South African Foreign Minister Naledi Pandor has stated that the bloc should discuss the suggestion carefully.
Kremlin spokesman Dmitry Peskov said earlier this month that while "in the short term, this is hardly feasible, the use of national currencies is already a reality that is growing on a global scale."
You can share this story on social media: