Cats' home turns down British parliament – media
Poisonous rat traps pose a significant risk to felines, an animal welfare group has warned the House of Commons, according to the Daily Mail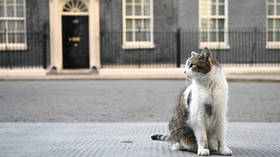 The UK's lower house of parliament has been denied a request for a cat to tackle a rodent infestation, after an animal care home group said poisonous traps deployed in the building could put felines in danger.
The House of Commons was "deemed to be an unsuitable environment for a cat due to the use of poisonous rodent traps," the Daily Mail reported on Sunday, citing comments from London's Battersea Dogs and Cats Home.
The animal welfare group, located on the other side of the Thames River from the Palace of Westminster, told the newspaper that it had previously successfully "rehomed working cats" to various government buildings.
The group said that 16-year-old Larry, a tabby cat who has his own X (formerly Twitter) account, had previously been transferred to the Prime Minister's Office at 10 Downing Street, where he has served as 'Chief Mouser' since 2011.
Another, named Gladstone, has taken up residence at the UK Treasury Office, while a third, Palmerston – who is now retired – was previously a regular fixture at the Foreign and Commonwealth Office.
Former leader of the House, Andrea Leadsom, told the Sunday Times in May that the Commons was "awash" with rodents, adding: "if you left a half-eaten bowl of crisps out, they'd be munched by the next morning."
Renovation work carried out in February has been blamed for "migrating" rats and mice from Underground train stations to parliament buildings.
An estimate from the British Pest Control Association has suggested that there could be as many as 120 million rats in the United Kingdom – a figure almost double that of the UK's human population. It added that unusually warm winters have helped the rat population thrive, after previous, harsher winter months had effectively culled the rodents.
The UK government's pest problems also extend to moths and bed bugs, with the Daily Express reporting on Sunday that the House of Commons spent at least £112,000 ($142,000) attempting to eradicate the problem in 2022 alone.
You can share this story on social media: