Hunter Biden's prosecutor gets status boost
US Attorney General Merrick Garland has named David Weiss a special counsel, giving him more investigative autonomy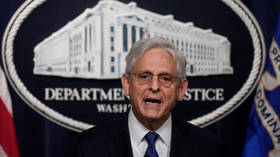 The lead prosecutor handling the criminal investigation of US President Joe Biden's son has been given special counsel status. The appointment potentially brings extra investigatory powers to the ongoing probe, after a federal judge rejected a plea deal that would have enabled Hunter Biden to avoid jail time on tax and gun charges.
Attorney General Merrick Garland announced the decision to appoint David Weiss, US attorney for the district of Delaware, as special counsel on Friday. Weiss said in a court filing earlier in the day that negotiations on a revised plea agreement with Hunter Biden were at an "impasse," suggesting that the case may wind up going to trial.
Garland said Weiss, who has been probing alleged crimes by Hunter Biden since 2019, asked on Tuesday to be appointed as a special counsel in the case because "in his judgment, his investigation had reached a stage at which he should continue his work as a special counsel." He added, "Upon considering his request, as well as the extraordinary circumstances relating to this matter, I have concluded it is in the public interest to appoint him as special counsel."
Those circumstances include the fact that Biden is the president's son and has been accused of running an influence-peddling operation from which his father profited. The probe also comes at a time when the elder Biden is seeking re-election, and his administration has criminally indicted his top political rival, former president Donald Trump, in two separate cases. Trump, in fact, is the first ex-president in US history to be criminally charged, and he has accused politically motivated prosecutors of trying to take him out, saying Biden cannot beat him in the 2024 election.
Garland reiterated his repeated claims that Weiss has been given full authority to make prosecutorial decisions in the Hunter Biden case. However, he said the prosecutor will no longer be subject to "day-to-day supervision" by any Department of Justice (DOJ) official. "Today's announcement affords the prosecutors, agents and analysts working on this matter the ability to proceed with their work expeditiously and to make decisions indisputably guided only by the facts and the law."
Two IRS whistleblowers who had been involved in investigating alleged tax crimes by Hunter Biden testified to Congress in June that the DOJ twice denied requests to give the prosecutor special counsel status. One of the whistleblowers also claimed that Weiss had been blocked from bringing charges against Biden in Southern California and Washington for crimes allegedly committed in those jurisdictions.
Weiss said in a letter to Congress last month that he had never requested a special counsel designation and had not been prevented from filing indictments in any jurisdiction.
US District Court Judge Maryellen Noreika rejected Biden's plea deal last month, at least partly because the DOJ apparently agreed to give him immunity from prosecution for other possible crimes. Weiss told the judge that his investigation could lead to other charges, at which point Leo Wise, a lawyer representing the president's son, said the plea agreement was "null and void."
Republican lawmakers have accused the DOJ of trying to give the younger Biden a "sweetheart" deal while carrying out politically motivated prosecutions of Trump. A US House committee is investigating alleged solicitation of overseas bribes by the Biden family.
You can share this story on social media: