Hunter Biden netted big money from Ukraine – court documents
The US president's son did not pay tax on $4.4 million earned from foreign sources in 2017 and 2018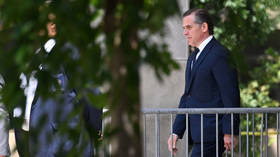 Court documents stemming from Hunter Biden's failed plea-bargain deal on federal criminal charges have revealed that US President Joe Biden's son brought in income of more than $4.4 million, mostly from China and Ukraine, while paying no taxes in 2017 and 2018.
In 2017 alone, Hunter Biden netted nearly $2.3 million from foreign sources, including over $1.6 million from his Chinese business interests and $500,000 in director's fees from a Ukrainian energy company, according to a filing released on Wednesday by US District Court Judge Maryellen Noreika in Wilmington, Delaware. He also had $70,000 in earnings from a Romanian business and $48,000 from a multinational law firm.
The president's son belatedly reported an additional $2.1 million in earnings from 2018. He didn't pay taxes for either year, despite having enough money and being repeatedly urged by his accountant to do so, according to the documents, which Noreika released in response to a request from NBC News.
Biden became addicted to crack cocaine in 2016, contributing to the collapse of his marriage and his most significant business relationship the following year. Despite his escalating drug use, "Biden successfully entered into business ventures and landed legal clients, earning millions of dollars."
Republican lawmakers have accused the Biden family of soliciting bribes through Hunter Biden's overseas business forays, including a stint serving as a director for Ukrainian energy firm Burisma Holdings. Burisma founder Mykola Zlochevsky reportedly urged Hunter Biden, whose father was then the US vice president, to help end a corruption investigation against the company in 2015.
Zlochevsky later told an FBI informant that he was coerced into paying a $10 million bribe to the Bidens and that he had multiple recordings to verify his claims.
Hunter Biden's substance abuse worsened in 2018, when he moved to Los Angeles for a "spring and summer of nonstop debauchery," according to the plea agreement. Weeks before his 2017 tax return was due to be filed, he received a $1 million payment for legal services to Chinese business associate Patrick Ho, but he spent almost all of the money over the next six months on travel, entertainment and other expenses. Similarly, around the time his 2018 return was due, in April 2019, he received $758,000 and spent almost all the money by the end of May.
The documents showed that an unidentified third party paid Biden's nearly $2 million in combined tax liabilities for 2017 and 2018 in October 2021. That same person also paid about $243,000 on Biden's behalf for unresolved tax liabilities from 2016 and 2019. Media outlets have identified that backer as Kevin Morris, Hunter Biden's "sugar brother" lawyer in Los Angeles.
Noreika refused to accept the plea agreement last week, saying she had concerns about the terms granted to Biden. Republicans had accused prosecutors in the Biden administration's Department of Justice (DOJ) of giving the president's son a "sweetheart" deal on the tax charges against him and a separate case involving an illegal gun purchase. Republican lawmakers launched an investigation this week of the DOJ's handling of the plea and diversion agreements in Hunter Biden's cases.
You can share this story on social media: