Iran asks South Africa for BRICS support
Tehran is seeking "accelerated membership" in the trade bloc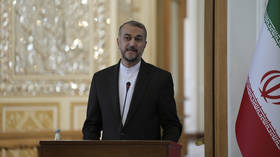 Iran hopes that BRICS will decide to expand membership at the upcoming summit in Johannesburg and has sought South Africa's backing for its bid, Foreign Minister Hossein Amir-Abdollahian revealed on Thursday.
"We hope to obtain the opportunity of accelerated membership under strong support we hope to receive from South Africa," he said at a briefing in Pretoria, where foreign ministers of the bloc and aspiring members have gathered to finalize preparations for the summit, which is scheduled to start on August 22.
Originally a trade association of Brazil, Russia, India, and China, the bloc admitted South Africa in 2010. Further expanding BRICS will be one of the items on the agenda at the upcoming summit. Iran is among the 23 countries that have formally applied for membership, along with Saudi Arabia, Argentina, Indonesia, and Egypt.
Mexico's president denied the rumors that his country was also among the applicants, explaining that his country's policy was to strengthen the existing pact with the US and Canada.
Several Western media outlets had reported that India and Brazil had reservations about expanding the BRICS membership, or set conditions for it, citing anonymous sources. Both Indian PM Narendra Modi and Brazilian President Luiz Inacio Lula da Silva have denied these rumors as untrue and unfounded.
Russian President Vladimir Putin will not attend the summit in person. He told his South African colleague Cyril Ramaphosa on Tuesday that he was needed in Moscow, but that he would tune in via video link for the relevant discussions. Foreign Minister Sergey Lavrov is already in South Africa.
You can share this story on social media: