Swedish police reveal consequences of Quran-burning stunts
The authorities say the country, along with Denmark and the Netherlands, has become a priority target for terrorists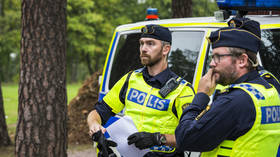 Sweden, Denmark and the Netherlands now top the priority lists of several terrorist groups, Magnus Sjoberg, the head of the counterterrorism department at the country's Security Police, has warned. The high threat level is linked to a series of Quran-burning stunts in the three nations, the official explained.
Speaking to Sweden's TT news agency on Wednesday, Sjoberg revealed that the security services had seen communications from within several terrorist organizations regarding the three European states, adding that the threat has now become "more tangible."
However, he noted that while the Swedish police have considerably improved their counterterrorism expertise in recent years, "none of us can guarantee that there won't be an attack."
According to Sweden's Expressen, a bomb was hurled toward the entrance of the Swedish Embassy in Beirut, Lebanon overnight. The device reportedly failed to detonate.
The newspaper, citing local police sources, claimed that that the attempted attack was linked to the recent string of Quran-burning stunts in Sweden.
Swedish Foreign Minister Tobias Billstrom tweeted that "it was pure luck that no one was hurt."
As recently as late July, a pair of Christian Iraqi immigrants stomped on a copy of the Quran and set fire to some of the pages in front of the Swedish parliament building.
The couple had twice previously staged similar controversial performances.
The latest stunt sparked an outcry from a number of Muslim-majority nations, with Iraq expelling the Swedish ambassador and recalling its own representative from Stockholm. Several others summoned Swedish ambassadors in protest.
Commenting on the Quran-burning protests in his country, Swedish prime minister Ulf Kristersson warned in July that these acts have resulted "in the most serious security policy situation" for the country "since the Second World War."
The official also expressed concern over the extensive stream of applications to the police for similar stunts, which the authorities can only turn down under specific legal circumstances.
You can share this story on social media: