Washington worried about Wagner in Africa – Blinken
The US secretary of state has accused the Russian PMC of taking advantage of the instability in Niger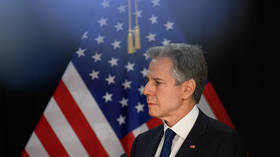 Washington does not believe that Moscow or Evgeny Prigozhin's Wagner Group were connected to the military coup in Niger, but is nevertheless concerned the African nation could come under Russian influence, US Secretary of State Antony Blinken has said.
In an interview with the BBC on Tuesday, he admitted that the US is particularly worried about Wagner "possibly manifesting itself" in parts of the Sahel region.
"I think what happened, and what continues to happen in Niger was not instigated by Russia or by Wagner, but... they tried to take advantage of it," Blinken said.
He went on to accuse the Wagner group of bringing only trouble wherever it went and claimed that "insecurity has gone up, not down" in countries it has visited.
Blinken's statement comes after media reports suggested that Niger's new military government had been considering inviting the Wagner group into the country to help safeguard their power and deter foreign interventions.
The coup leaders are currently facing an approaching deadline to either return ousted President Mohamed Bazoum to power or face a possible military intervention by neighboring states.
Acting US Deputy Secretary of State Victoria Nuland, sometimes dubbed Washington's regime change czar for her role in the 2014 coup in Ukraine, has even personally traveled to meet with representatives of Niger's new government to deter them from mingling with Wagner.
Niger's ousted pro-US president, Bazoum, has also expressed concern that the Sahel region of western Africa could come under the influence of Russia via the Wagner group.
Meanwhile, the PMC's chief Evgeny Prigozhin has insisted that his group only fights on the side of good, justice and those who wish to defend their sovereignty and the rights of their people.
He also noted that the level of Washington's anxiety over possibly coming across his group "sparked joy" and invited Niger's new government to "give us a call."
It is unclear what role, if any, Russia or Wagner have or will play in the situation in Niger, but Moscow has insisted that it is vehemently opposed to any foreign intervention in the country and expressed hope that the African nation will be able to restore "constitutional normality."
You can share this story on social media: